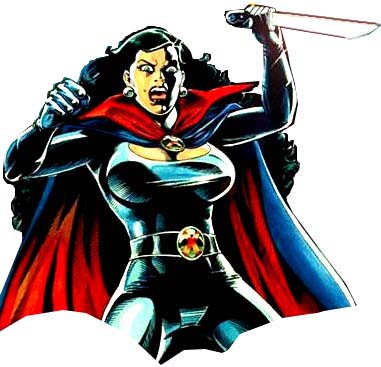 Xtremity


Renate Roseblood

Religion: not determined yet

Name: Xtremity

Alter Ego: Renate Roseblood

Classification:

villain
Publisher(s):

YU Strip
First Appearance: Cat Claw #6 (Jan. 1990): "Catminator"
NOTE: This is our current best assessment of the first appearance of this character, but this has been flagged in our database as uncertain.
Creators: Bane Kerac
Super? (Has Super Powers/Special Abilities/Technology): Yes
Number of Appearances: 3
Enemy of: Cat Claw
Ally: Phil Fireball
Ally: Catminator
Nation: Yugoslavia
Gender: female
This character is in the following story which has been indexed by this website:

Cat Claw #6 (Jan. 1990): "Catminator"

Suggested links for further research about this character:
- http://www.internationalhero.co.uk/x/xtremity.htm
- http://riftsaga.net/Heros_Bane/C/Xtremity/index.html
- http://www.comicvine.com/xtremity/29-2548/
- http://bkerac.tripod.com/catclaw/indexeng.html
- http://en.wikipedia.org/wiki/Cat_Claw
- http://www.comicvine.com/cat-claw-/37-121211/