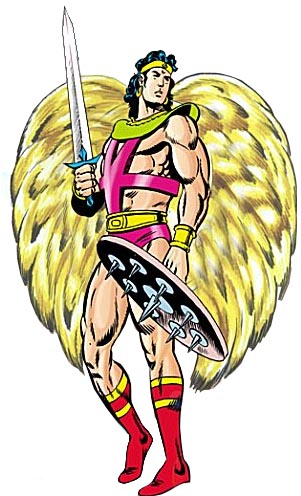 The Religious Affiliation of


Bhokal


Prince Alop

Religion: angel

Name: Bhokal
Alter Ego: Prince Alop
Other Names: Rajkumar; Alop
Classification:

hero
Publisher(s):

First Appearance: Khaufnaak Khel #1 (1993)
Creators: Sanjay Gupta
Super? (Has Super Powers/Special Abilities/Technology): Yes
Number of Appearances: 157
Occupation: prince
Nation: India
Gender: male
Details from now-defunct page at http://www.kosmix.com/topic/bhokal/Media (also at http://www.kosmix.com/topic/bhokal):
Bhokal is a fictional character created by Sanjay Gupta for Raj Comics. Actual name of Bhokal is Rajkumar. He is an angel warrior prince of a fictional fairyland.He came to earth on a private mission and decided to defend Vikasnagar. Bhokal first appeared in Khoufknak Khel published by Raj Comics in 1993. When Alop shouts "Jai Mahaguru Bhokal", he is blessed with extra strength, a layer of armour, his extraordinary sword and a shield which he can use in battle. This Bhokal Shakti is the power of his teacher, Mahaguru Bhokal.The mystical sword can cut any elements or materials of that time and it emits a fire from its edge called Jwala-Shakti. This fire can burn anything in a fraction of a second. The Sheild and the armour protects him from any physical or supernatural attack. Bhokal has the ability to fly.

He has three friends Shootan, Atikrur and Tureen. Shootan was called the sammohan-samrat because he could hypnotise anyone and anything with his eyes. Atikrur has the power of 10 elephants. He could even flatten mountains with his blows. Bhokal falls in love with Tureen later and marries her.He was rival with Fuchang who killed his parents. Tureen owned a magical weapon prahara. Turin was killed by Himaraj in the Himalayan Valleys. Bhokal, then married Rupsi who had the ability to communicate with animals and later he wedded Saloni who was a skilled archer. Among the three wives he had strong feelings for Tureen. But he had to protect the other two, so did not leave them. He goes on a mission to find the soul of Turin and finally he gets back his beloved Turin. Bhokal was also friends with the magician Tilli, Gajo-Bajo, Totka and the children of King Vikasmohan and Rani Mohini. Kaljantri killed the kids of Bhokal. Bhokal, the legendary winged warrior fights for justice on earth.
This character is in the following story which has been indexed by this website:

Khaufnaak Khel #1 (1993)
(lead character)

Suggested links for further research about this character and the character's religious affiliation:
- http://en.wikipedia.org/wiki/Bhokal
- http://www.internationalhero.co.uk/b/bhokal.htm