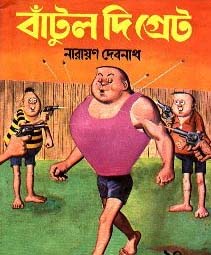 Batul the Great


Batul

Religion: not determined yet

Name: Batul the Great

Alter Ego: Batul

Other Names: Bantul; Bantul the Great; Barul the Great

Classification:

hero
Publisher(s): Shuktara
First Appearance: "Bantul the Great" serial comic strip in Shuktara magazine (started c. 1965)
Creators: Narayan Debnath
Super? (Has Super Powers/Special Abilities/Technology): Yes
Number of Appearances: 23
Comic Book Appearances: 17
TV, Film Appearances: 6
Nation: India
Gender: male
We found a collection of 17 Batul comics scanned and posted online. A collection of 6 animated Batul films was also simple to find. Given the longevity of this character, this is no doubt a severe underestimate of the total number of appearances by this character.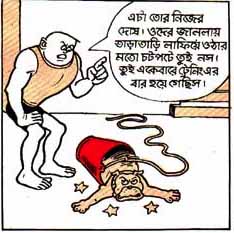 Suggested links for further research about this character:
- http://www.internationalhero.co.uk/b/bantul.htm
- http://en.wikipedia.org/wiki/Batul_The_Great
- http://www.binodon.com/2008/02/19/batul-the-great-bangla-comic-3/
- http://lambiek.net/artists/d/debnath_narayan.htm
- http://en.wikipedia.org/wiki/Narayan_Debnath
- http://www.tinyloader.com/batulthegreat.php
- http://www.rapidshareindex.com/Batul-the-great-bengali-animation-cartoon-6-movies_100702.html