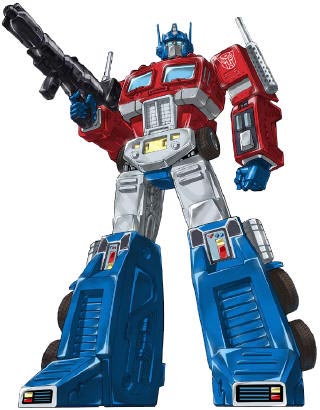 The Religious Affiliation of


Optimus Prime


Religion: Transformers religion

Name: Optimus Prime
Other Names: Convoy; Orion Pax
Classification:

hero
Publisher(s):
Dreamwave Productions






First Appearance: (comics) The Transformers #1 (Sep. 1984)
Super? (Has Super Powers/Special Abilities/Technology): Yes
Number of Appearances: 433
Comic Book Appearances: 297
TV, Film Appearances: 130
Video Game, Computer Game Appearances: 6
Teams/Affiliations: Autobots
Race: Transformer
Gender: male
Despite jokes from an episode of the TV series Family Guy and a few other places, Optimus Prime is NOT Jewish. He HAS been shown (in the feature film as well as in comics) to be a fairly religious and orthodox adherent of the Transformers' traditional religion.
"Convoy" and "Orion Pax" are Optimus Prime's names in Japanese.
This character is in the following 2 stories which have been indexed by this website:

Marvel Double-Shot #3 (Mar. 2003): "The Father, the Son, and the Holy Spirit"
(toy)

Marvel Knights 4 #11 (Dec. 2004): "The Stuff of Nightmares: Part 2"
(construct)

Suggested links for further research about this character and the character's religious affiliation:
- http://transformers.wikia.com/wiki/Religion
- http://en.wikipedia.org/wiki/Optimus_Prime
- http://www.imdb.com/character/ch0003342/
- http://www.comicvine.com/optimus-prime/29-6467/
- http://comicbookdb.com/issue.php?ID=17296