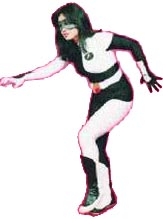 Saras 008


Saraswati

Religion: not determined yet

Name: Saras 008

Alter Ego: Saraswati

Classification:

hero
Publisher(s): Grasinda; Indosiar
First Appearance: Saras 008 ("Pahlawan Kebajikan" [i.e., "Hero Virtues"] TV series, premiered 1999)
Creators: Andra P. Daniel, Gusur
Super? (Has Super Powers/Special Abilities/Technology): Yes
Number of Appearances: 96
Nation: Indonesia
Gender: female
Saras 008 is apparently one of the most popular superhero characters in Indonesia, starring in comics, novels, films, a TV series, etc. It is difficult to find information about the company or companies that publishes her stories, particularly because most information about Saras 008 is NOT in English. She is truly a native Indonesian creation.
As far as I can tell, "Grasinda" is the name of the distribution and/or production company shown on the DVD covers for the Saras 008 DVDs pictured online.
The first appearance of Saras 008 is listed on the International Heroes website as: "Saras 008 (Pahlawan Kebajikan TV series, 1999)." It appears that "Pahlawan Kebajikan" is the name of a TV series and "Saras 008" is the title of an individual episode. But I'm not certain about this. I don't think "Pahlawan Kebajikan" is the name of an Indonesian TV station. "Pahlawan Kebajikan" is an in Indonesian phrase that translates directly to English as "Hero Virtues." A subtitle used by Saras 008 is "heroine of righteousness." Perhaps this is what "Pahlawan Kebajikan" translates into, and the full name of the TV series is "Saras 008: Pahlawan Kebajikan."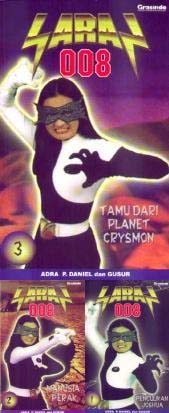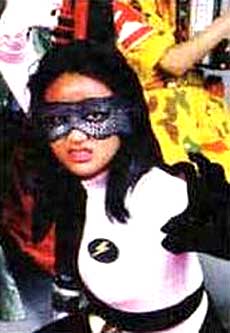 Suggested links for further research about this character:
- http://www.superheroeslives.com/internationals/saras_008_(1999).htm
- http://www.internationalhero.co.uk/s/saras008.htm
- http://www.accu.or.jp/appreb/report/abd/abd3024.html
- http://bestsuperhero.blogspot.com/2007/10/saras-008.html
- http://masri-sareb.blogspot.com/2009/04/impact-of-comics-and-other-kinds-of-new.html
- http://www.sinemart.com/new/News.php?select=berita&sub=arsip&action=view&bID=97