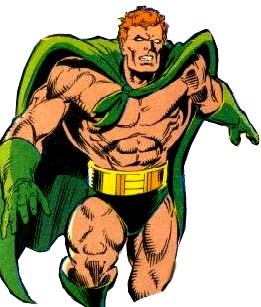 The Religious Affiliation of


The Human Meteor


Duke O'Dowd

Born of Irish background; raised in Texas; at some point his family relocated to Boston, Massachusetts. he later claimed that one of his guiding principles was advice from his uncle Patrick Confucius O'Dowd - "Act first, explain later"; This uncle may have raised him. Originally a superhero/crimefighter. Revived as Nazi in modern Marvel stories.

This character is in the following story which has been indexed by this website:

The Invaders (vol. 2) #1 (May 1993): "The Invaders Return"

Suggested links for further research about this character and the character's religious affiliation:
- http://www.marvunapp.com/Appendix/humanmeteor.htm
- http://www.comicvine.com/human-meteor/29-30324/
- http://www.comicboards.com/marvelguide/h2.html
- http://www.marvunapp.com/master/hum.htm
- http://www.marvunapp.com/master/basbaz.htm