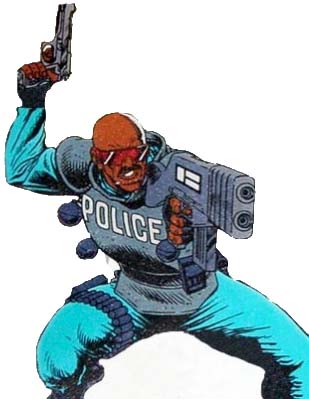 Marcus Stone


Religion: not determined yet

Name: Marcus Stone

Other Names: Lieutenant Marcus Stone; Marc Stone; Lt. Stone

Classification:

hero
Publisher(s):

First Appearance: Thor (vol. 1) #403 (May 1989): "The Wolves of Ravenswood!"
First Appearance (Additional Details): (cameo) Thor (vol. 1) #403 (May 1989): "The Wolves of Ravenswood!"; (full) Thor (vol. 1) #404 (June 1989): "Something is Killing the Great Gods of Asgard!"; (MC-2) DarkDevil #1
Creators: Tom DeFalco, Gary Hartle, Mike Gustovich
Super? (Has Super Powers/Special Abilities/Technology): Yes
Number of Appearances: 54
Teams/Affiliations: Code: Blue (leader)
Gender: male
Marcus Stone became the mayor of New York City in the MC-2 "universe", set in a possible near-future Marvel universe.
This character is in the following 17 stories which have been indexed by this website:

Captain America

Darkhawk

The Deadly Foes of Spider-Man #2 (June 1991): "Book II: The Price of Justice"

Fantastic Force

Fantastic Four (vol. 3) #46 (Oct. 2001): "It's Too Late to Stop Now!"

Marvel Comics Presents (vol. 1) #112 (Oct. 1992): "Typhoid's Kiss Part 4: Push My Buttons"

New Thunderbolts

Silver Sable and the Wild Pack #27 (Aug. 1994): "On the Loose"

Thor

Thunderstrike

Suggested links for further research about this character:
- http://www.comicvine.com/lt-stone/29-16095/
- http://www.marvunapp.com/Appendix/codeblue.htm
- http://www.comicboards.com/marvelguide/s5.html
- http://www.comicboards.com/marvelguide/MC2Handbook/smc2.html
- http://www.marvunapp.com/master/stonstq.htm