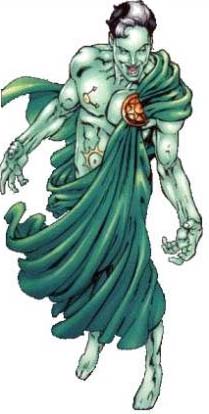 The Religious Affiliation of


Abraxas


Religion: cosmic entity

Name: Abraxas
Other Names: The Dark Man
Classification:

villain
Publisher(s):

First Appearance: Fantastic Four Annual 2001 (Sep. 2001): "The Devil You Know"
Creators: Carlos Pacheco, Rafael Marin, Jeph Loeb, Kevin Maguire, Wade von Grawbadger
Super? (Has Super Powers/Special Abilities/Technology): Yes
Number of Appearances: 7
Enemy of: Silver Surfer, The Fantastic Four
Gender: male
Note: abstract embodiment of destruction
Antithesis of Eternity; attempted to destroy all alternate realities with Ultimate Nullfier; Abraxas emerged from within the heart of Eternity after Galactus apparently died in the Galactus: The Devourer limited series (1999-2000). Galactus was revealed as necessary to keep Abraxas at bay.
This character is in the following 5 stories which have been indexed by this website:

Fantastic Four

Suggested links for further research about this character and the character's religious affiliation:
- http://en.wikipedia.org/wiki/Abraxas_(comics)
- http://www.leaderslair.com/marvelvillains/abraxas.html
- http://marvel.wikia.com/wiki/Abraxas_(Cosmic_Being)_(Earth-616)
- http://comicbookdb.com/character.php?ID=6783
- http://www.marvel.com/universe/Abraxas
- http://www.marvunapp.com/master/aaac.htm
- https://www.comics.org/issue/74505/
- http://comicbookdb.com/issue.php?ID=41751