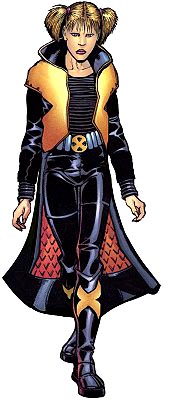 The Religious Affiliation of


Skids


Sally Blevins

Religion: Christian (denomination unknown); mutant supremacist

Name: Skids
Alter Ego: Sally Blevins
Publisher(s):

First Appearance: X-Factor (vol. 1) #7 (Aug. 1986): "Fallout!"
Creators: Louise Simonson, Jackson Guice, Bob McLeod
Super? (Has Super Powers/Special Abilities/Technology): Yes
Number of Appearances: 109
Comic Book Appearances: 108
TV, Film Appearances: 1
Teams/Affiliations: Morlocks; Mutant Liberation Front; S.H.I.E.L.D.; The 198; The Acolytes; The New Mutants; X-Corporation; X-Terminators
Occupation: adventurer, intelligence agent, terrorist
Race: white
Gender: female
X-Factor #16 (May 1987) provides something of an origin story for Skids, and is one of the best resources for understanding the character's strict religious upbringing prior to the manifestation of her mutant powers and her subsequent attachment to various mutant causes and groups.
Skids was raised in a very religious but in some ways dysfunctional home. Skids' father appears to have been sincerely religious and strongly motivated to teach his daughter to live by righteous principles, but he also had a problem with anger. When her mutant force field powers first manifest, she thought it was a miracle from God.
Skids has apparently not continued active participation in the Christian denomination she was raised in, or in any organized Christian denomination, for that matter. Soon after leaving home when her mutant powers manifest, she joined the Morlocks. She subsequently joined numerous mutant groups, some heroic and some villainous. She has often, of her own free will, been a member of mutant supremacist groups. She was even actively involved in Magneto worship as a member of the Acolytes.
On the other hand, Skids has worked for federal authorities against mutant terrorist groups, such as when she infiltrated Masque's group of highly religious Magneto-worshiping mutant supremacists, on assignment from S.H.I.E.L.D.
Skids has many friends in the mutant community and can be a likable person, but it is difficult to look at her long history without regarding her as a highly malleable personality who is easily persuaded to join extremely questionable causes, including criminal, racist, and mutant supremacist causes. She does not appear to have a strong moral core.
This character is in the following 40 stories which have been indexed by this website:

X-Factor

X-Men

X-Treme X-Men

Suggested links for further research about this character and the character's religious affiliation:
- http://www.adherents.com/lit/comics/Skids.html
- http://www.comicvine.com/skids/29-3194/
- http://en.wikipedia.org/wiki/Skids_(comics)
- http://www.imdb.com/character/ch0086040/
- http://www.comicboards.com/marvelguide/s3.html
- http://www.marvunapp.com/master/sjskr.htm
- http://www.marvunapp.com/master/x0xmxz.htm
- http://www.marvunapp.com/master/aaac.htm