The Religious Affiliation of


Simon Magus


Religion: sorcerer

Name: Simon Magus
Other Names: The Evil Magician
Classification:

villain
Publisher(s):

First Appearance: Justice League of America (vol. 1) #2 (Dec. 1961 - Jan. 1962): "Secret of the Sinister Sorcerers!"
Creators: Gardner F. Fox, Mike Sekowsky, Bernard Sachs
Super? (Has Super Powers/Special Abilities/Technology): Yes
Number of Appearances: 2
Teams/Affiliations: Sinister Sorcerers
Enemy of: The Justice League
Gender: male
JLA is stymied when all man-made inventions, incl. the team's science-spawned powers/weapons, are rendered useless. When they discover that a trio of malovelent magicians has dimensionally transposed the Earth with a sister world called Magic-Land, they resort to mysticism - and the help of Merlin - to venture to Magic-Land and restore order.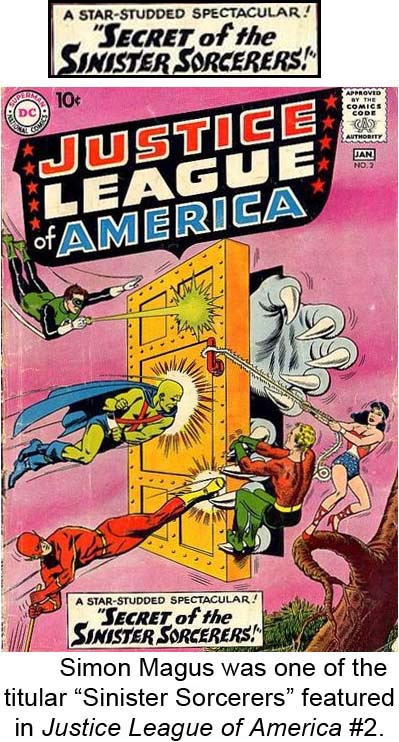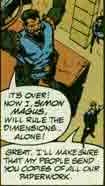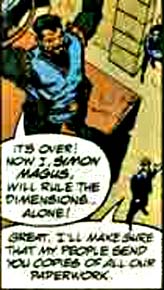 This character is in the following 2 stories which have been indexed by this website:

Justice League of America

Suggested links for further research about this character and the character's religious affiliation:
- http://comicbookdb.com/character.php?ID=18582
- https://www.comics.org/issue/15992/
- http://dc.wikia.com/wiki/Justice_League_of_America_2
- http://www.dcuguide.com/who.php?name=simonmagus
- http://www.comicbloc.com/forums/archive/index.php/t-28019.html
- http://en.wikipedia.org/wiki/Creature_Commandos
- http://amodeluniversodc.blogspot.com/2007/04/creature-commandos.html
- http://dc.wikia.com/wiki/Justice_League_of_America_Vol_1_2