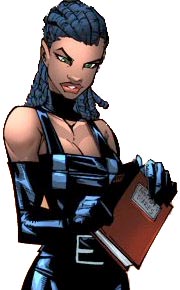 The Religious Affiliation of


Frenzy


Joanna Cargill

Religion: mutant supremacist worshipper of Magneto

Name: Frenzy
Alter Ego: Joanna Cargill
Other Names: Cargill
Publisher(s):

First Appearance: X-Factor (vol. 1) #4 (May 1986): "Trials and Errors"
Creators: Bob Layton, Keith Pollard, Joe Rubinstein
Super? (Has Super Powers/Special Abilities/Technology): Yes
Number of Appearances: 44
Teams/Affiliations: Femizons; The Acolytes; The Alliance of Evil; The Marauders; X-Men
Enemy of: X-Men
Occupation: mercenary
Race: black
Gender: female
Became allied with Mister Sinister and his Marauders during "Messiah Complex" storyline (late 2007).
This character is in the following 32 stories which have been indexed by this website:

Avengers Academy #38 (Dec. 2012): "Crosstown Rivals"

Captain America

Dark Avengers/Uncanny X-Men: Exodus #1 (Nov. 2009): "Utopia: Conclusion"
(2-panel cameo)

Dark Avengers/Uncanny X-Men: Utopia #1 (Aug. 2009): "Utopia: Part 1"
(8-panel cameo)

Dark Reign Files #1 (Apr. 2009)

The Uncanny X-Men

X-Factor

X-Men

X-Men: Legacy

X-Men: Phoenix Force Handbook (Sep. 2010)

Suggested links for further research about this character and the character's religious affiliation:
- http://en.wikipedia.org/wiki/Joanna_Cargill
- http://comicbookdb.com/character.php?ID=13667
- http://www.marvunapp.com/master/caqcarn.htm
- http://www.marvunapp.com/master/frafre.htm
- http://www.comicboards.com/marvelguide/f2.html
- http://www.marvunapp.com/master/aaac.htm