The Mandarin


Khan

Religion: not determined yet

Name: The Mandarin

Alter Ego: Khan

Other Names: Gene Khan; Zhang Tong; Tem Borjigin; Chu; Tem Borjigin

Classification:

villain

scientist
Publisher(s):

First Appearance: Tales of Suspense (vol. 1) #50 (Feb. 1964): "The Hands of the Mandarin!"
Super? (Has Super Powers/Special Abilities/Technology): Yes
Number of Appearances: 190
Comic Book Appearances: 166
TV, Film Appearances: 23
Video Game, Computer Game Appearances: 1
Teams/Affiliations: Mandarin's Minions; The Hand
Enemy of: Iron Man, Professor Ho Yinsen, Dr. Robert Hoskins, Li Wang
Occupation: government official, scientist, would-be conqueror
Birth Place: China
Race: Asian
Gender: male
The man who would become the Mandarin was born in a small village in China before the Communist Revolution.
The Mandarin grew up in a village in rural China before the Communist Revolution. He is a ruthless, murdering villain bent on world domination. But there is no reason to believe he himself is a Communist, despite the current political regime of his native land.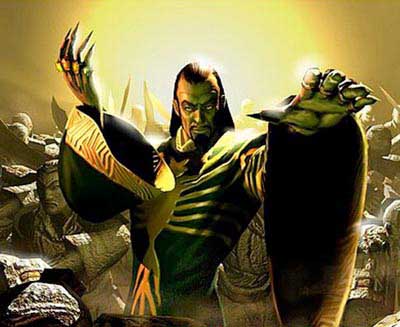 This character is in the following 24 stories which have been indexed by this website:

The Avengers (vol. 1) #20 (Sep. 1965): "Vengeance Is Ours!"

Captain America

Hawkeye (vol. 4) #4 (Jan. 2013): "The Tape: 1 of 2"

Heroes for Hire (vol. 2) #1 (Oct. 2006): "Taking it to the Streets, Part 1"
(mentioned)

Iron Man

Lego Marvel Super Heroes: Maximum Overload (2013)

Marvel Comics Presents

Marvel: Ultimate Alliance (24 Oct. 2006)

Tales of Suspense

X-Factor (vol. 1) #49 (Mid-Dec. 1989): "Judgment War, Part 6: Power Struggle"
(photo/picture/video)

X-Men

Suggested links for further research about this character:
- http://www.imdb.com/character/ch0036533/
- http://www.comicvine.com/the-mandarin/29-3530/
- http://www.comicboards.com/marvelguide/m.htm
- http://www.marvunapp.com/master/manamanj.htm