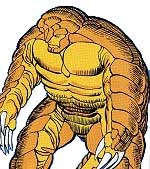 The Religious Affiliation of


Armadillo


Antonio Rodriguez

Religion: Catholic

Name: Armadillo
Alter Ego: Antonio Rodriguez
Classification:

hero
Publisher(s):

First Appearance: Captain America (vol. 1) #308 (Aug. 1985): "The Body in Question"
Creators: Mark Gruenwald, Paul Neary, Dennis Janke
Super? (Has Super Powers/Special Abilities/Technology): Yes
Number of Appearances: 52
Teams/Affiliations: Hood's Army; The Rangers; Unlimited Class Wrestling Federation
Worked for: Karl Malus
Birth Place: San Antonio, Texas, USA
Race: Hispanic
Gender: male
Changed from regular human into Armadillo by Karl Malus.
Was also associated with the lesser known wrestling league, the Ultimate Fighting League.
This character is in the following 28 stories which have been indexed by this website:

Avengers: Deathtrap, The Vault (Sep. 1991): "Deathtrap, the Vault"

Captain America

Captain America: The Legend #1 (Sep. 1996)

Civil War: Battle Damage Report #1 (Mar. 2007)

Civil War: War Crimes #1 (Feb. 2007)

Doomwar #6 (Sep. 2010): "Doomwar, Part 6"
(cameo)

Fantastic Four (vol. 1) #336 (Jan. 1990): "Dark Congress!"

The New Avengers

New Avengers: Breakout (2013)

New Warriors

Scarlet Spider (vol. 2) #16 (June 2013): "A Good, Ol' Fashioned Rodeo"

Super-Villain Team-Up: MODOK's 11 #1 (Sep. 2007): "Mistaken for Happiness"

Thunderbolts

X-Men: Legacy (vol. 1) #275 (Dec. 2012)

Suggested links for further research about this character and the character's religious affiliation:
- http://www.adherents.com/lit/comics/Armadillo.html
- http://www.comicvine.com/armadillo/29-6800/
- http://www.marvunapp.com/master/ariarz.htm
- http://comicbookdb.com/issue.php?ID=18036
- https://www.comics.org/issue/40322/
- http://www.comicboards.com/marvelguide/a2.html
- http://www.marvunapp.com/master/unuq.htm
- http://www.marvunapp.com/master/ramran.htm
- http://www.marvunapp.com/master/mahmam.htm