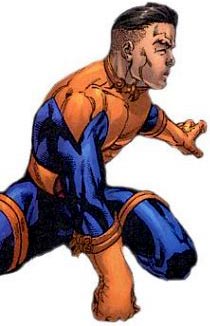 The Religious Affiliation of


Omerta


Paulie Provenzano

Religion: religious

Name: Omerta
Alter Ego: Paulie Provenzano
Other Names: Paulie Provenza; Paul "Paulie" Provenzano
Classification:

hero
Publisher(s):

First Appearance: Uncanny X-Men #392 (Apr. 2001)
Creators: Scott Lobdell, Salvador Larroca, Scott Hanna, Tim Townsend
Super? (Has Super Powers/Special Abilities/Technology): Yes
Number of Appearances: 4
Teams/Affiliations: United States Marine Corps; X-Men
Birth Place: Brooklyn, New York City, New York, USA
Gender: male
Note: briefly recruited to X-Men to stop Magneto's Genosha war
Paulie Provenzano was strongly anti-gay, which temporarily caused some friction between himself and openly LGBT teammate Northstar.
Paulie was only briefly a member of the X-Men. He was recruited by Jean Grey to be part of a temporary incarnation of the team sometimes known as the "Eve of Destruction X-Men." After their mission to stop Magneto's Genosha-based war against the rest of the world, Paulie was offered permanent membership in the X-Men. But he declined the offer and returned home to Brooklyn.
This character is in the following story which has been indexed by this website:

The Uncanny X-Men (vol. 1) #392 (Apr. 2001): "From the Ashes of the Past... Still Another Genesis!"

Suggested links for further research about this character and the character's religious affiliation:
- http://en.wikipedia.org/wiki/Omerta_(comics)
- http://marvel.wikia.com/wiki/Paulie_Provenzano_(Earth-616)
- http://www.mutanthigh.com/paulie.html
- http://www.comicvine.com/paulie-provenzano/29-15019/
- http://www.thexaxis.com/indexes/uncannyxmen/392.htm
- http://www.marvunapp.com/master/prolprz.htm
- http://www.comics.org/issue/84153/
- http://comicbookdb.com/issue.php?ID=3898