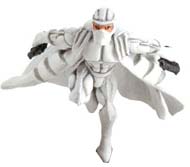 The Religious Affiliation of


Fantomex


Charlie-Cluster 7

Religion: atheist

Name: Fantomex
Alter Ego: Charlie-Cluster 7
Other Names: Jean-Phillipe Charles; Weapon XIII; E.V.A.; Weapon Thirteen; Apollyon; Apollyon the Destroyer
Classification:

hero
Publisher(s):

First Appearance: New X-Men (vol. 1) #128 (Aug. 2002): "New Worlds"
Creators: Grant Morrison, Igor Kordey
Super? (Has Super Powers/Special Abilities/Technology): Yes
Number of Appearances: 41
Teams/Affiliations: U-Men; Weapon Plus
Race: white
Gender: male
In the "Here Comes Tomorrow" storyline chronicled in New X-Men (vol. 1) #s 151-154, Fantomex is known as "Apollyon." He works as an agent of the evil John Sublime and is a foe of the X-Men of that future time. In New X-Men #152, Apollyon declared himself the last and greatest of the U-Men, a statement explained in New X-Men #154.
This character is in the following 21 stories which have been indexed by this website:

Astonishing X-Men Saga #1 (Mar. 2006)
(cameo)

Mystique

New X-Men

Uncanny X-Men (vol. 1) #519 (Feb. 2010): "Nation X: Chapter 5"
(2-panel cameo)

Suggested links for further research about this character and the character's religious affiliation:
- http://en.wikipedia.org/wiki/Fantomex
- http://www.comicvine.com/fantomex/29-4281/
- http://scienceblogs.com/pharyngula/2009/12/atheist_superheroes_saving_the.php
- http://marvel.wikia.com/Charlie_Cluster-7_(Earth-616)
- http://comicbookdb.com/character.php?ID=5116
- http://comicbookdb.com/character.php?ID=8309
- http://www.marvunapp.com/master/fan.htm
- http://www.marvunapp.com/master/euexs.htm
- http://www.comicboards.com/marvelguide/f.htm
- http://marvel.wikia.com/New_X-Men_Vol_1_128
- https://www.comics.org/issue/100414
- http://comicbookdb.com/issue.php?ID=4266
- http://www.uncannyxmen.net/db/issues/showquestion.asp?fldAuto=864
- http://www.marvunapp.com/master/aoaq.htm