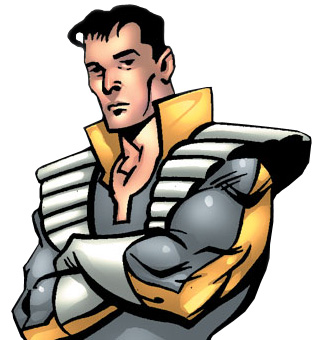 The Religious Affiliation of


Living Lightning


Miguel Santos

Religion: Catholic; LGBT

Name: Living Lightning
Alter Ego: Miguel Santos
Other Names: Relampago Vivo
Classification:

hero
Publisher(s):

First Appearance: Avengers West Coast #63 (Oct. 1990): "When Lives the Lightning"
Creators: Roy Thomas, Dann Thomas, Paul Ryan, Danny Bulanadi
Super? (Has Super Powers/Special Abilities/Technology): Yes
Number of Appearances: 118
Teams/Affiliations: Pacific Overlords; The Avengers; The Rangers
Birth Place: East Los Angeles, California, USA
Race: Hispanic
Gender: male
The MC-2 (near-future Marvel) version of Living Lightning first appeared in A-Next #7.
This character is in the following 25 stories which have been indexed by this website:

Avengers

Avengers West Coast

Captain America (vol. 1) #401 (June 1992): "After the Storm"
(cameo)

Civil War: Battle Damage Report #1 (Mar. 2007)

Fantastic Four

GLA

Marvel Universe: The End

Moon Knight Saga (Oct. 2009)
(1-panel cameo)

The Order (vol. 1) #5 (Aug. 2002): "Blinded by Science"
(cameo)

Scarlet Spider

Spider-Boy Team-Up #1 (June 1997): "Too Many Heroes -- Too Little Time"
(character based on)

Suggested links for further research about this character and the character's religious affiliation:
- http://www.adherents.com/lit/comics/LivingLightning.html
- http://comicbookdb.com/character.php?ID=4530
- http://www.comicvine.com/living-lightning/29-3315/
- http://comicbookdb.com/issue.php?ID=27923
- https://www.comics.org/issue/48592/
- http://www.comicboards.com/marvelguide/l2.html
- http://www.comicboards.com/marvelguide/MC2Handbook/lmc2.html
- http://www.marvunapp.com/master/lipln.htm
- http://www.marvunapp.com/master/ramran.htm