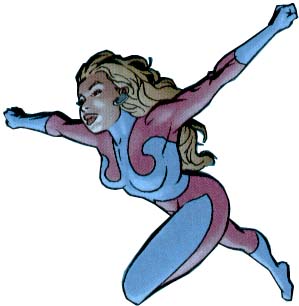 The Religious Affiliation of


Windfall


Wendy Jones

Religion: repentant

Name: Windfall
Alter Ego: Wendy Jones
Publisher(s):

First Appearance: Batman and the Outsiders (vol. 1) #9 (Apr. 1984): "Enter: the Masters of Disaster"
Creators: Mike W. Barr, Jim Aparo
Super? (Has Super Powers/Special Abilities/Technology): Yes
Number of Appearances: 34
Teams/Affiliations: Kobra; Masters of Disaster; Strike Force Kobra; The Outsiders; The Suicide Squad
Race: white
Gender: female
Windfall (Wendy Jones) is a super-heroine who started out as a super-villain. In Windfall's first appearances, in the Batman and the Outsiders comic book series, she was a member of the super-villain team the "Masters of Disaster." This team battled the super-hero team known as the Outsiders a number of times.
But Windfall may have never been truly evil at heart. In the second encounter between the Outsiders and the Masters of Disaster, Windfall saved the life of Outsiders member Halo, despite being ordered by her team's leader (and her sister) New Wave to let Halo die.
This incident led to Windfall leaving the Masters of Disaster before long. She later helped out the Outsiders and even joined the team.
Windfall's path from super-villain to super-hero was not completely smooth. She left the Outsiders and briefly joined Strike Force Kobra, a super-villain team which fought the Outsiders. During the conflict between the Outsiders and Strike Force Kobra, Windfall realized her error, and returned to the Outsiders.
Windfall only remained with the Outsiders briefly, however, before resigning and returning to college. While attending college, Windfall attended a party a fraternity house at which members of the fraternity drugged her and raped her. She retaliated by using her wind powers against them. Windfall was arrested for asphyxiating her rapists, and she ended up recruited by Amanda Waller to join the Suicide Squad, a team of super-powered beings who worked for the U.S. government. This was essentially a super-heroic team, but it was comprised of super-villains or former super-villains who were coerced into joining the team in exchange for gaining some freedom and some measure of forgiveness for their past crimes.
Windfall was killed by Chemo during a Suicide Squad mission.
This character is in the following 30 stories which have been indexed by this website:

Adventures of the Outsiders

Batman and the Outsiders

Blasters Special #1 (Mar. 1989): "Blasters"
(cameo)

The Outsiders

Suggested links for further research about this character and the character's religious affiliation:
- http://en.wikipedia.org/wiki/Windfall_(comics)
- http://www.dcuguide.com/who.php?name=windfall
- http://www.dcuguide.com/chronology.php?name=windfall
- http://comicbookdb.com/character.php?ID=7796
- http://en.wikipedia.org/wiki/Masters_of_Disaster_(comics)
- http://en.wikipedia.org/wiki/List_of_Outsiders_members
- https://www.comics.org/issue/38510/
- http://comicbookdb.com/issue.php?ID=24443
- http://www.cosmicteams.com/jsa/_chron/jsachron5.html
- https://www.comics.org/issue/42135/
- http://www.dcuguide.com/Out/Out_014.php
- http://www.dcuguide.com/Out/Out_019.php