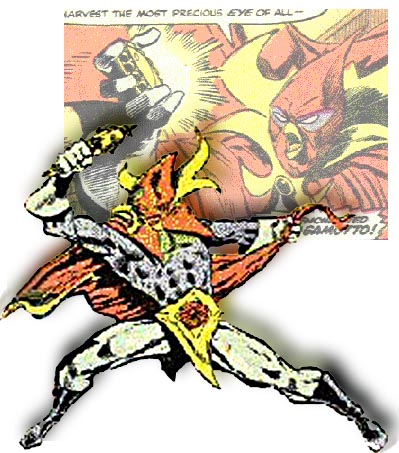 The Religious Affiliation of


The Agent of Fortune


Religion: Cult of the Harvester of Eyes

Name: The Agent of Fortune
Classification:

villain
Publisher(s):

First Appearance: The Defenders (vol. 1) #58 (Apr. 1978): "Xenogenesis Day of the Demons, Part 1: Agents of Fortune"
Creators: David Anthony Kraft, Ed Hannigan, Klaus Janson, Dan Green
Super? (Has Super Powers/Special Abilities/Technology): Yes
Number of Appearances: 3
Enemy of: Doctor Strange, The Defenders
Gender: male
Note: agent of Vera Gemini
The whole attempt by the Agent of Fortune (or Agents of Fortune, plural) to return demons to Earth was known as "Xenogenesis." This operation was stopped by the Defenders.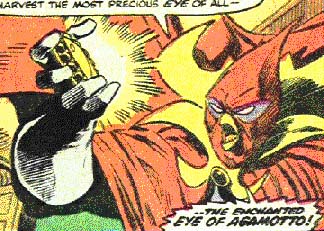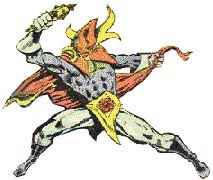 Suggested links for further research about this character and the character's religious affiliation:
- http://www.marvunapp.com/Appendix/geminive.htm#Agent
- http://www.marvunapp.com/Appendix3/cultharvesteye.htm
- http://comicbookdb.com/character.php?ID=31915
- http://www.marvunapp.com/master/ag.htm
- http://www.marvunapp.com/master/cscx.htm
- http://www.marvunapp.com/master/xaxz.htm
- https://www.comics.org/issue/32140
- http://comicbookdb.com/issue.php?ID=36472
- http://marvel.wikia.com/Defenders_Vol_1_58
- http://www.comicvine.com/the-defenders-xenogenesis-day-of-the-demon-part-1-agents-of-fortune/37-18406/
- https://www.comics.org/issue/32237/
- https://www.comics.org/issue/32326/