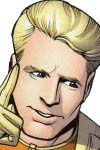 Clay Quartermain


Religion: not determined yet

Name: Clay Quartermain

Other Names: Clay Quatermain

Classification:

supporting character
Publisher(s):

First Appearance: Strange Tales #163 (Dec. 1967)
Creators: Jim Steranko
Number of Appearances: 116
Comic Book Appearances: 115
TV, Film Appearances: 1
Teams/Affiliations: Hulkbusters (S.H.I.E.L.D.); Hulkbusters (U.S. Military); Hulkbusters; S.H.I.E.L.D.; The Howling Commandos
Race: white
Gender: male
According to the entry for Captain America (vol. 1) #123 found at Comics.org, a character named "Jason Quatermain" appears both on the cover and within the story in this issue. This is simply a mistake on the part of the archivist who created that website's entry for this issue. The character in question can be visually identified as SHIELD agent Clay Quartermain, but he is never referred to by name within the issue, and "Jason Quatermain" is not an actual Marvel character.
This character is in the following 17 stories which have been indexed by this website:

Captain America

The Defenders (vol. 1) #54 (Dec. 1977): "Fury Times 5!"

Fantastic Four: The World's Greatest Comics Magazine! #7 (Aug. 2001): "...Touched By the Hand of Havoc!"

Hulk

The Incredible Hulk

Nick Fury's Howling Commandos

Silver Sable and the Wild Pack

Suggested links for further research about this character:
- http://marvel.wikia.com/wiki/Clay_Quartermain_(Earth-616)
- http://www.comicvine.com/clay-quartermain/29-7524/
- http://www.imdb.com/character/ch0066836/
- http://marvel.wikia.com/wiki/Clay_Quartermain_(Earth-1298)
- http://www.marvunapp.com/master/qaque.htm
- https://www.comics.org/issue/23343/