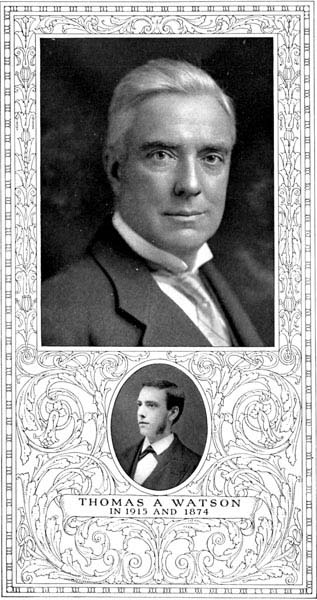 The Religious Affiliation of


Mr. Watson


Religion: Meher Baba devotee (temporary)

Name: Mr. Watson
Other Names: Thomas A. Watson; Thomas Augustus Watson
Classification:

supporting character

scientist

real/historical person
Publisher(s):

Earliest Appearance Listed in This Database: DC Special Series #1 (Sep. 1977): "The Telephone Tangle"
Creators: Paul Kupperberg, Steve Stiles, Bob McLeod
Number of Appearances: 2
Comic Book Appearances: 1
TV, Film Appearances: 1
Birth Place: Salem, Massachusetts, USA
Gender: male
Note: assistant to Alexander Graham Bell
Although it may seem peculiar to many modern Westerners, Mr. Watson was actually a serious devotee of Meher Baba, at least temporarily.
Does this make Mr. Watson a Zoroastrian? Perhaps. Perhaps not. Generally speaking, Zoroastrianism is rather closed off to conversion, and by most ways of understanding, Mr. Watson would not be regarded as a Zoroastrian. But the fact is that his spiritual guru was Meher Baba, who was born and raised as a Zoroastrian.
Whether the teachings of Meher Baba are properly classified as a subset or offshoot of Zoroastrianism, or whether they comprise something else entirely, is a matter of debate. But there is no question that even in his most radical stage, Meher Baba was strongly influenced by his Zoroastrian background.
This character is in the following story which has been indexed by this website:

DC Special Series #1 (Sep. 1977): "The Telephone Tangle"

Suggested links for further research about this character and the character's religious affiliation:
- http://darkmark6.tripod.com/atomind.htm
- http://www.imdb.com/title/tt0031981/
- http://www.indianetzone.com/28/meher_baba_indian_saint.htm
- https://www.comics.org/issue/30578/
- http://comicbookdb.com/issue.php?ID=55939
- http://en.wikipedia.org/wiki/Thomas_A._Watson
- http://en.wikipedia.org/wiki/Meher_Baba