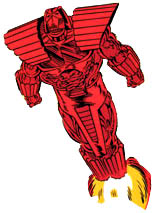 The Religious Affiliation of


Crimson Dynamo


Dimitri Bukharin

Religion: Communist

Name: Crimson Dynamo
Alter Ego: Dimitri Bukharin
Other Names: Airstrike; Krashni Denamit; Crimson Dynamo V; Dmitri Bukharin; Dmitro Bukharin
Classification:

hero
Publisher(s):

First Appearance: Iron Man (vol. 1) #109 (Apr. 1978): "Moonrise!"
Creators: Bill Mantlo, Carmine Infantino, Fred Kida
Super? (Has Super Powers/Special Abilities/Technology): Yes
Number of Appearances: 36
Teams/Affiliations: KGB; The People's Protectorate; The Soviet Super-Soldiers
Occupation: agent
Nation: Russia
Race: white
Gender: male
Among other Russia-based super-teams he has belonged to, Crimson Dynamo was a member of the "People's Protectorate." For a brief time, the People's Protectorate was known as the "Supreme Soviets." Crimson Dynamo was active in this group while it was known as the Supreme Soviets, as seen in Captain America (vol. 1) #s 352-254 and Soviet Super Soldiers #1.
This character is in the following 10 stories which have been indexed by this website:

Captain America

Iron Man (vol. 1) #109 (Apr. 1978): "Moonrise!"

Marvel Fanfare (vol. 1) #56 (Apr. 1991): "Marvel Heroes"

Marvel Super-Hero Contest of Champions #1 (June 1982): "A Gathering of Heroes!"

Secret Wars II #7 (Jan. 1986): "Charge of the Dark Brigade!"

Soviet Super Soldiers #1 (Nov. 1992): "The Red Triangle Agenda"

Thunderbolts (vol. 1) #25 (Apr. 1999): "Saving the World!"
(cameo)

World War Hulk: Gamma Corps #1 (Sep. 2007): "Part 1: Hulkbusters"
(character based on)

X-Factor Annual #1 (Oct. 1986): "Grand Design"

Suggested links for further research about this character and the character's religious affiliation:
- http://en.wikipedia.org/wiki/Crimson_Dynamo
- http://comicbookdb.com/character.php?ID=6538
- http://comicbookdb.com/character.php?ID=38190
- http://www.marvel.com/universe/Airstrike_(Dmitri_Bukharin)
- http://www.imdb.com/character/ch0048403/
- http://www.marvunapp.com/master/ahai.htm
- http://www.marvunapp.com/master/cracri.htm
- http://www.comicboards.com/marvelguide/c4.html
- http://www.marvunapp.com/Appendix/spdmappxc.htm
- http://www.marvunapp.com/master/pbpep.htm
- http://www.marvunapp.com/master/supsuz.htm