New Fun #2 (Mar. 1935):
"New Fun: Hello Everybody"
New Fun #2
Title: "New Fun: Hello Everybody"
Medium: non-fiction article
Publication date: Mar. 1935
Publisher:

Number of Pages: 1

3 characters in this story:
Character
(Click links for info about character
and his/her religious practice, affiliation, etc.)
Religious
Affiliation
Team(s)


[Notes]

Pub.
#
app.

[featured in humor strip; always cheerful]

5
penguin
20
bear
[cub]
20
This publication is also known as: New Fun: The Big Fun Comic Magazine #2 or New Fun Comics #2.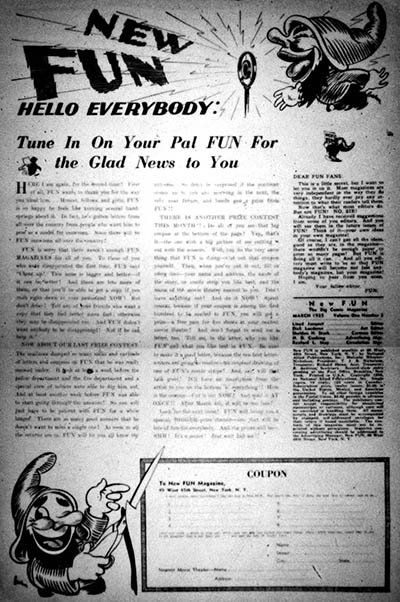 [BELOW: TEXT FROM THIS PAGE:]
NEW FUN
HELLO EVERYBODY:
Tune In On Your Pal FUN For the Glad News to You
Here I am again, for the second time! First of all, FUN wants to thank you for the way you liked him. Honest, fellows and girls, FUN is so happy he feels like turning several handsprings about it. In fact, he's gotten letters from all over the country from people who want him to pose as a model for snowmen. Soon there will be FUN snowmen all over the country!
FUN is sorry that there weren't enough FUN MAGAZINES for all of you. To those of you who were disappointed the first time, FUN says "Chin up!" This issue is bigger and better -- if it can be better! And there are lots more of them, so that you'll be able to get a copy if you run right down to your newsstand NOW! But don't delay! Tell all of your friends who want a copy that they had better move fast, otherwise they may be disappointed too. And FUN doesn't want anybody to be disappointed! Not if he can help it.
NOW ABOUT OUR LAST PRIZE CONTEST! The mailman dumped so many sacks and barrels of letters and envelopes at FUN that he was really snowed under. It took us over a week before the police department and the fire department and a special crew of miners were able to dig him out. And at least another week before FUN was able to start going through the answers. [???] you will just have to be patient with FUN for a while longer? There are so many good answers that he doesn't want to miss a single one! As soon as all the returns are in, FUN will let you all know the outcome. So don't be surprised if the mailman walks up to you one morning in the near, the very near future, and hands you a prize from FUN!!
THERE IS ANOTHER PRIZE CONTEST THIS MONTH!! Do all of you see that big coupon at the bottom of the page? Yep, that's it -- the one with a big picture of me cutting it out with scissors. Well, you do the very same thing that FUN is doing -- cut out that coupon yourself. Then, when you've cut it out, fill out every line -- your name and address, the name of the story, or strip you like best, and the name of the movie theatre nearest to you. Don't leave anything out! And do it NOW! Speed counst, because if your coupon is among the first hundred to be mailed to FUN, you will get a prize -- a free pass for five shows at your nearest movie theatre! And don't forget to send me a letter, too. Tell me, in the letter, why you like FUN and what you like best in FUN. Be sure to make it a good letter, because the ten-best letter-writers are going to receive the original drawing of one of FUN's comic strips! And say, will that look good! It'll have the inscription from the artist so you see the bottom is everything!! Here is the coupon -- Cut it out NOW! And mail it AT ONCE!! After March 31, it will be too late!
DEAR FUN FANS:
This is a little secret, but I want to let you in on it. Most magazines are very independent to the way they do things; they hardly ever pay any attention to what their readers tell them.
Now that's what most editors do. But not FUN! NO, SIR!
Already I have received suggestions from some of you editors. And you will see them in the future issues of FUN! Think of it--your own ideas in your own magazine!
Of course, I can't put all the ideas, good as they are, in the magazine -- there wouldn't be enough paper to print so many pages! But FUN is doing al it can... And all you editors must write to us so that FUN magazine will become not just anybody's magazine, but your magazine!
Hoping to hear from you soon, I am.
Your fellow editor,
FUN.