Lois & Clark: The New Adventures of Superman
Season 1, Episode 7 (24 Oct. 1993): "I've Got a Crush on You"

by Thania St. John, Gene Reynolds
Lois & Clark: The New Adventures of Superman - Season 1, Episode 7
Title: "I've Got a Crush on You"
Medium: television series episode
Original airdate: 24 Oct. 1993
Publisher:

Written by:
Thania St. John
Directed by:
Gene Reynolds

8 characters in this story:
Character
(Click links for info about character
and his/her religious practice, affiliation, etc.)
Religious
Affiliation
Team(s)


[Notes]

Pub.
#
app.
Kryptonians; Super Friends...
13,409
Raleigh College
[Superman's girlfriend, then wife]
3,859
The Legion of Super-Heroes
[Superman's pal]
1,896

[Superman's (Clark Kent's) boss; Daily Planet editor]

1,574

[Superman's adoptive father]

816

[Superman's adoptive mother]

827
Injustice League; Secret Six...
1,508

[Daily Planet gossip columnist; co-worker of Clark Kent]

140
BELOW: Clark Kent tells Lois Lane he learned from medicine man in Fiji: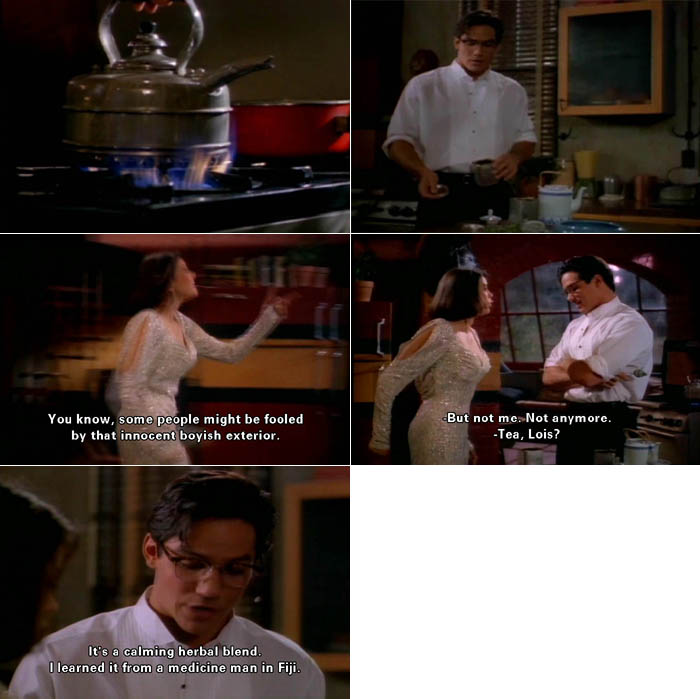 Source: Lois & Clark: The New Adventures of Superman - Season 1, Episode 7 (24 Oct. 1993). Written by Thania St. John. Directed by Gene Reynolds.
Timecode: 26 minutes, 59 seconds: Clark Kent is in his apartment boiling water on the stove and preparing tea. Lois Lane, still wearing the dress she wore in her undercover role as a singer in a jazz club owned by mobsters, barges into Clark's apartment. When the boss at the club discovered Lois and Clark together in a back room, Clark felt he had no choice but to expose Lois as the "spy" who was finding out inside information about the goings-on there. Clark was also undercover, posing as "Charlie King," a new bartender. By exposing Lois, he managed to maintain his own undercover role. But Lois is angry, nonetheless.
Lois Lane: You rotten, backstabbing piece of slime. You know, some people might be fooled by that innocent boyish exterior. But not me. Not anymore.
Clark Kent: Tea, Lois? It's a calming herbal blend. I learned it from a medicine man in Fiji. The secret is the fresh mint.