Marvel Double-Shot #1 (Jan. 2003):
"Spinach"

by Rob Haynes
Marvel Double-Shot #1
Title: "Spinach"
Feature: The Hulk (Bruce Banner)
Medium: comic
Cover date: Jan. 2003
Publisher:

Written by:
Rob Haynes
Art by:
Rob Haynes

5 characters in this story:
Character
(Click links for info about character
and his/her religious practice, affiliation, etc.)
Religious
Affiliation
Team(s)


[Notes]

Pub.
#
app.

The Hulk (Bruce Banner)


(lead character)

Hulkbusters; Pantheon...
4,551
Code Red; Control...
350

[tried to mass-market spray made from She-Hulk's blood]

1
Goodman, Lieber, Kurtzberg-ampersand-Holliway; Heroes for Hire...
952
Code Red; Home Base...
[girlfriend (later wife) of Dr. Bruce Banner (the Hulk)]
463
This publication is also known as: Marvel Double Shot #1.
Excerpts
BELOW: Bruce Banner (The Hulk) believes that General Thunderbolt Ross is "obsessed" with hunting the Hulk: Bruce Banner (The Hulk) recalls yet another time that General Thunderbolt Ross searched for the Hulk: "I'm certain that others were searching as well... But General Ross has played this game many, many times. I hide... He seeks. He's obsessed with it. And, I think, he's obsessed with me."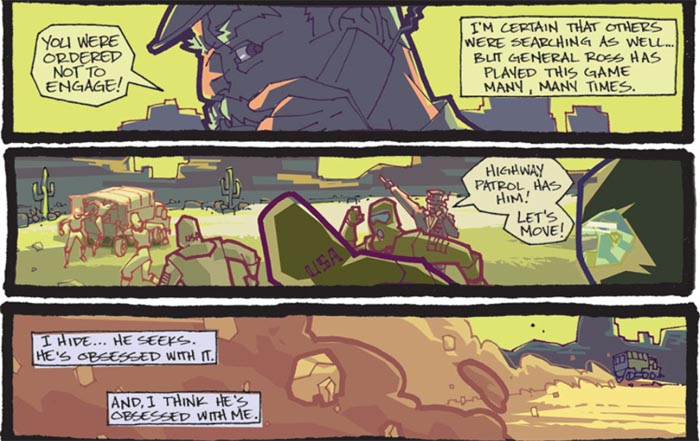 Source: Marvel Double-Shot #1 (Jan. 2003): "Spinach", pg. 2, panels 1-3. Written by Rob Haynes. Art by Rob Haynes. See also: obsession; idiosyncratic; The Hulk (Bruce Banner); Red Hulk (Thunderbolt Ross)
BELOW: Spinach was simply greedy: The "brilliant mixologist" known only as "Spinach" successfully captured She-Hulk and the Hulk, created a nasal spray that temporarily imbues people with super strength, and staged a battle with the Hulk -- all out of greed. He desired publicity which he thought would help popularize his product. After the Hulk defeated him and Thunderbolt Ross captured him, "Spinach" said: "Be sure to tell everyone what you saw here. This green stuff is going to make me a lot of green... once I get back on my feet."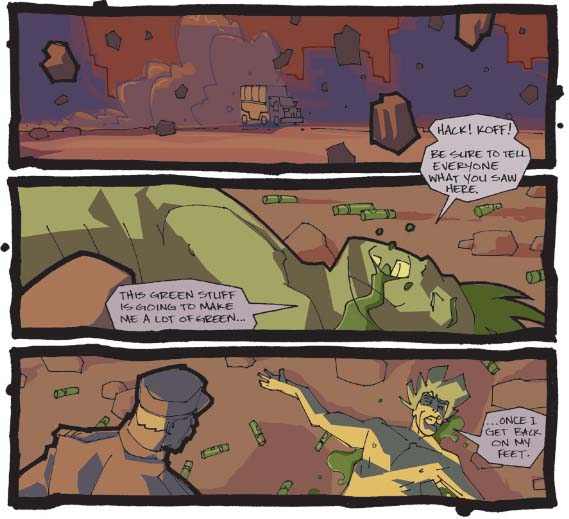 Source: Marvel Double-Shot #1 (Jan. 2003): "Spinach", pg. 10, panels 3-5. Written by Rob Haynes. Art by Rob Haynes. See also: greed; Spinach