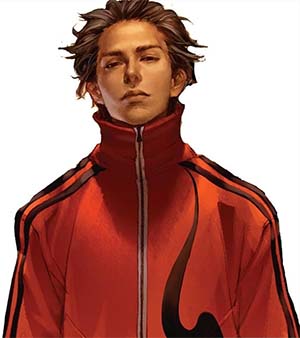 The Religious Affiliation of


Victor Mancha


Religion: super-religious, super-logical; mother was devout Christian

Name: Victor Mancha
Other Names: Zapper; Calculator Kid; Victorious
Classification:

hero
Publisher(s):

First Appearance: Runaways (vol. 2) #1 (Apr. 2005): "True Believers: Chapter One"
Creators: Brian K. Vaughan, Adrian Alphona, Craig Yeung
Super? (Has Super Powers/Special Abilities/Technology): Yes
Number of Appearances: 65
Teams/Affiliations: The Runaways
Birth Place: Los Angeles, California, USA
Gender: male
Discussion
From: "Victor Mancha", 30 May 2007 on the Marvel Database website (http://marvel.wikia.com/wiki/Victor_Mancha_(Earth-616); viewed 30 May 2007):
Post Civil War (Volume 2, issue 22 on) Recently, Chase tied up Nico and stole her Staff of One, and was confronted by Victor. Chase revealed that the Abstract has three secret shutdown codes (questions) imbedded in Victor's programming. The question Chase asked him was, "Could God make a sandwich so big, that even He couldn't finish it?" Because Victor was programmed by Ultron to be both "super-logical" and "super-religious", these functions cancel one another out and cause a feedback which temporarily shuts Victor down...

Still completely catatonic, where all he could do was endlessly repeat the computer simulated phrase of "010101010101...", Molly was forced to stay with him while the others fought the Gibborim and tried to stop Chase from killing himself. After trying desperately to wake him, Molly asks the ghost of Gert to tell her what to do, and strangely enough is given instructions on how to cure Victor. She tells him that "Yes, God could make a sandwich so big that even he couldn't finish it, and then he would finish it anyway." With that, Victor suddenly is awakened, with full power.
This character is in the following 6 stories which have been indexed by this website:

Civil War: Battle Damage Report #1 (Mar. 2007)

Runaways (vol. 2) #1 (Apr. 2005): "True Believers: Chapter One"

Secret Invasion: Runaways / Young Avengers

What If? Astonishing X-Men #1 (Feb. 2010): "What If Danger Became a Bride of Ultron?"
(cameo)

Suggested links for further research about this character and the character's religious affiliation:
- http://www.adherents.com/lit/comics/Victor_Mancha.html
- http://marvel.wikia.com/wiki/Victor_Mancha_(Earth-616)
- http://www.comicvine.com/victor-mancha/29-1937/
- http://www.marvunapp.com/master/manamanj.htm
- http://www.comicboards.com/marvelguide/m.htm