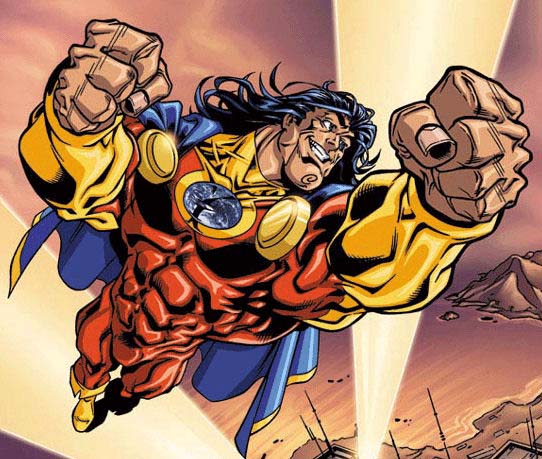 The Religious Affiliation of


Atlas


Religion: Greco-Roman classical religion

Name: Atlas
Classification:

hero
Publisher(s):


Tidal Wave Studios
First Appearance: 10th Muse (vol. 1) #1 (Nov. 2000)
NOTE: This is our current best assessment of the first appearance of this character, but this has been flagged in our database as uncertain.
Creators: Marv Wolfman, Ken Lashley, John Strangeland
Super? (Has Super Powers/Special Abilities/Technology): Yes
Number of Appearances: 5
Gender: male
The traditional Greco-Roman deity Atlas was adapted by Darren G. Davis (creator of "10th Muse") as a modern-day super-hero. Prior to the publication of Atlas #1 by Avatar Press in 2002, featuring this character, there was definitely an "Atlas" backup story (or preview story) published in 10th Muse (vol. 1) #7. This feature was promoted on the cover. This was the first appearance of the "Atlas" character from Image/Tidal Wave Studios in a starring, title role. However, we believe that Atlas appeared earlier in the 10th Muse series, in issue #1, as a supporting character in the "10th Muse" mythos.
This character is in the following 5 stories which have been indexed by this website:

10th Muse

Atlas #1 (Aug. 2002)
(lead character)

Suggested links for further research about this character and the character's religious affiliation:
- http://www.comicsbulletin.com/news/11379937648136.htm
- http://www.internationalhero.co.uk/a/atlasbw.htm
- http://www.milehighcomics.com/nice/0602comics.rtf
- http://www.comicon.com/cgi-bin/ultimatebb.cgi?ubb=get_topic&f=36&t=003449
- http://cwn.comicraft.com/cgi-bin/index.cgi?column=interviews&page=124
- http://www.avatarpress.com/2002solic/08/index.html
- http://www.atomicavenue.com/atomic/TitleDetail.aspx?TitleID=1669
- http://www.mania.com/images-atlas_article_28609.html
- http://www.comicscontinuum.com/stories/0108/16/
- http://www.comicsbulletin.com/reviews/103947293781950.htm
- http://comicbookdb.com/issue.php?ID=141824
- http://comicbookdb.com/title.php?ID=4176