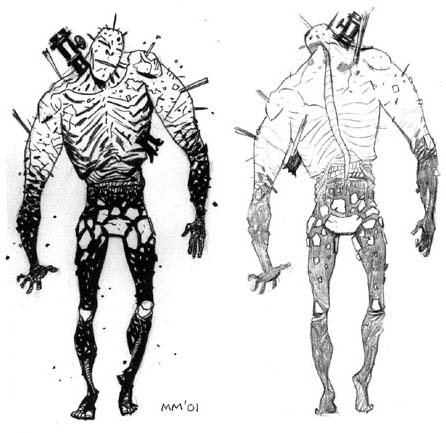 Frag


Religion: not determined yet

Name: Frag

Classification:

villain
Publisher(s):

First Appearance: Joker: Last Laugh Secret Files #1 (Dec. 2001): "A Clown at Midnight"
Creators: Chuck Dixon, Scott Beatty, Pete Woods, Cameron Stewart
Super? (Has Super Powers/Special Abilities/Technology): Yes
Number of Appearances: 6
Gender: male
In Joker: Last Laugh #1 (Dec. 2001), Frag is apparently first mentioned by name in panel 1 on page 6 (page 10 in the Joker: Last Laugh trade paperback). During a prison riot the Slab - a riot engineered by the Joker -- another incarcerated super-villain is seen on a security monitor saying, "Frag, gimme a hand, Bruh!" ("Brug" here is a slang term for "brother," indicating that Frag is a fellow super-villain.)
A face can be put to Frag's name in this issue on page 16 (page 20 in the trade paperback). In panel 1 the rioting super-villains are struggling to recover from a chemical gas that caused them to vomit. A monstrous bald humanoid with what appears to be a cannon sticking out of where his shoulder connects to his neck says, "You think you had it rough? Try vomiting barbed wire and gravel. Does this look like a plan to you, Apeface? We're boxed in. And with these damn collars we're not going anywhere." (Frag is here referring to the power-canceling powers all the inmates wear.)
The Joker interjects, calling Frag by name, "Au contraire, Fraggy. Voila" The Joke holds up Multi-Man's collar, which he has finally managed to remove.
On this and subsequent pages in this issue this character appears to have fragments of rocks, metal, rebar, etc. embedded in his skin. These fragments are apparently the source of this villain's nom de guerre.
This character is in the following 6 stories which have been indexed by this website:

Joker: Last Laugh

Joker: Last Laugh Secret Files #1 (Dec. 2001): "A Clown at Midnight"

Outsiders

Suggested links for further research about this character:
- http://comicbookdb.com/character.php?ID=27630
- http://comicbookdb.com/issue.php?ID=39930
- http://comicbookdb.com/issue.php?ID=12492