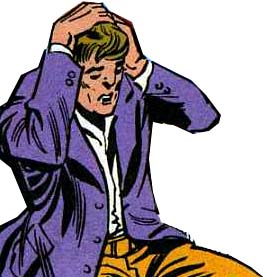 Sam Hoxie


Religion: not determined yet

Name: Sam Hoxie

Classification:

villain
Publisher(s):

First Appearance: Batman (vol. 1) #293 (Nov. 1977): "The Testimony of Luthor!"
Creators: David Vern (as David V. Reed), John Calnan, Tex Blaisdell
Number of Appearances: 1
Occupation: engineer
Worked for: Lex Luthor
Gender: male
Note: console engineer for Lex Luthor apparatus
Sam Hoxie, who was named in panel 3 on page 12 in Batman #293 (Nov. 1977), was a "console engineer" who was in charge of technical details in a plot Lex Luthor hatched against Superman.
Hoxie was not awake when he was first seen in this story. He is seen unconscious, hidden in a closet, in panel 5 on page 12. What Hoxie's fellow Luthor henchman Sparky Grimes did not realize was that Sam Hoxie had been knocked unconscious and replaced by Batman in disguise. Thus Batman was able to pry details of Lex Luthor's plan from Grimes. Batman was gone by the time Grimes found Hoxie's unconscious body.
Grimes stirred Hoxie to consciousness. The engineer then told Grimes (Luthor's chief aide) that he had not been talking to him. Grimes realized that he had been fooled.
The man who appears to be Hoxie in panels 3 and 4 on page 12 is actually Batman. The real Sam Hoxie appears in panels 5, 6 and 7 on this page.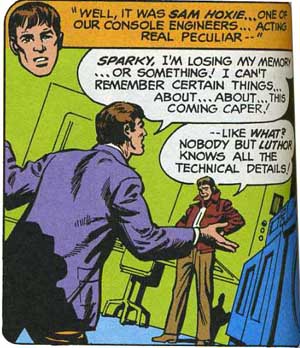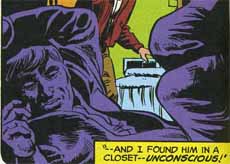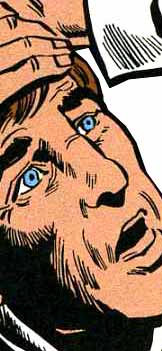 This character is in the following story which has been indexed by this website:

Batman (vol. 1) #293 (Nov. 1977): "The Testimony of Luthor!"
(3-panel cameo)

Suggested links for further research about this character:
- https://www.comics.org/issue/31599/
- http://comicbookdb.com/issue.php?ID=43045