John Sholes


Religion: indeterminate

Name: John Sholes

Classification:

supporting character
Publisher(s):

First Appearance: Batman (vol. 1) #292 (Oct. 1977): "The Testimony of the Riddler!"
Creators: David Vern (as David V. Reed), John Calnan, Tex Blaisdell
Number of Appearances: 1
Enemy of: The Riddler
Gender: male
Note: murdered by Riddler as part of clue to Batman
Batman's recurring foe the Riddler has a compulsion to send Batman clues before committing crimes. In Batman #292 (Oct. 1977) the Riddler delivered a clue to Batman in the form of this riddle:
Shall we play the Riddler's game--
With meaning changed, but word the same?
Then find the founder who found fame,
Before he founders in his name!
A man named John Sholes had recently been found murdered on a boat at the docks. Batman realized that this man's name tied into the Riddler's clue. The Batman explained to Commissioner Gordon: "A man named John Sholes . . . shot to death on a boat that foundered in the shoals! The same word, but the meaning changed! A wanton killing-- as a clue!"
The murder victim's name, however, was only part of the riddle. Commissioner Gordon asked Batman, "What about the rest of the riddle -- 'The founder who found fame'?
Batman replied, "Still workin' on it, Commissioner!"
John Sholes was only seen as a corpse in this story, and nothing further was revealed about this unfortunate Gothamite.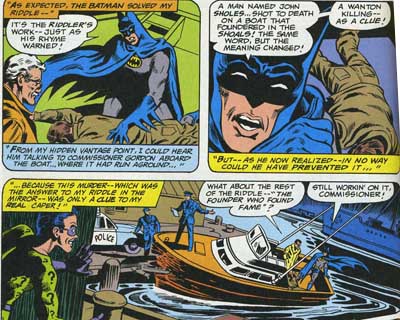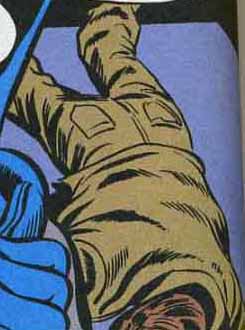 This character is in the following story which has been indexed by this website:

Batman (vol. 1) #292 (Oct. 1977): "The Testimony of the Riddler!"
(3-panel cameo)

Suggested links for further research about this character:
- https://www.comics.org/issue/31496/
- http://comicbookdb.com/issue.php?ID=17791