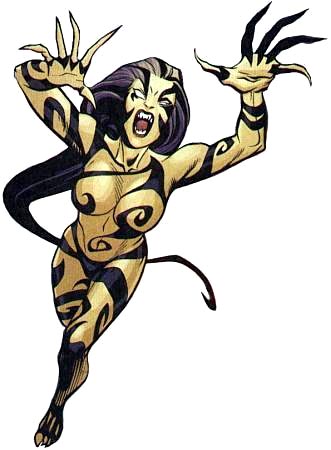 The Religious Affiliation of


Carnivora


Religion: alien

Name: Carnivora
Classification:

villain
Publisher(s):

First Appearance: Joker: Last Laugh Secret Files #1 (Dec. 2001): "A Clown at Midnight"
Creators: Chuck Dixon, Scott Beatty, Pete Woods, Cameron Stewart
Super? (Has Super Powers/Special Abilities/Technology): Yes
Number of Appearances: 5
Enemy of: Power Girl, Michael Akins
Occupation: criminal
Gender: female
Note: was part of invasion force that crashed en route to Earth
Carnivora is an alien who came to Earth's solar system as part of an alien invasion force. It has been speculated that she was part of a scouting party that met disaster when it crashed into a meteor or asteroid. Carnivora managed to come to Earth alive, where she embarked on a career as a minor super-villain.
Carnivora was incarcerated in the super-villain prison known as the Slab. She first appeared in comics as part of the army of super-villains who were "joker-ized" and released by the Joker.
Carnivora was later shot dead by police commissioner Michael Akins while she was partipating in a city-wide gang war in Gotham City.
This character is in the following 6 stories which have been indexed by this website:

Joker: Last Laugh

Joker: Last Laugh Secret Files

Outsiders (vol. 3) #6 (Jan. 2004): "Brothers in Blood, Part 3 of 3: Pandora's Box"

Suggested links for further research about this character and the character's religious affiliation:
- http://dc.wikia.com/wiki/Carnivora_(New_Earth)
- http://comicbookdb.com/character.php?ID=11790
- http://www.dcuguide.com/who.php?name=carnivora
- http://www.dcuguide.com/chronology.php?name=carnivora
- http://comicbookdb.com/issue.php?ID=39930
- https://www.comics.org/issue/291665/