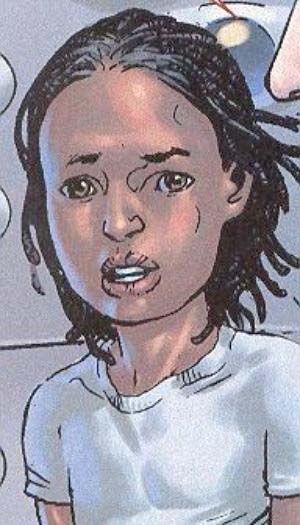 The Religious Affiliation of


Ellie Waters


Religion: Vodoun; palm reader

Name: Ellie Waters
Classification:

supporting character
Publisher(s):

First Appearance: Silver Surfer (vol. 5) #1 (Sep. 2003): "Communion"
Creators: Dan Chariton, Stacy Weiss, Mahathir Buang (as Milx)
Super? (Has Super Powers/Special Abilities/Technology): Yes
Number of Appearances: 14
Enemy of: Marduk
Ally: Denise Waters
Gender: female
Note: autistic
Denise and Ellie Waters were New Orleans-based characters featured prominently in the 4th volume Silver Surfer series.
Ellie's mother was a palm reader. Her grandparents on her mother's side were a Vodoun priestess and an alleged Ogoun Shango.
Ellie Waters had vast, mostly untapped reality-altering powers. The young girl was taken from Earth by the Annunaki race, which apparently helped save the planet from the Marduk construct.
This character is in the following story which has been indexed by this website:

Silver Surfer (vol. 5) #1 (Sep. 2003): "Communion"

Suggested links for further research about this character and the character's religious affiliation:
- http://www.thefourthrail.com/reviews/critiques/072803/silversurfer1.shtml
- http://www.marvunapp.com/master/watwaz.htm