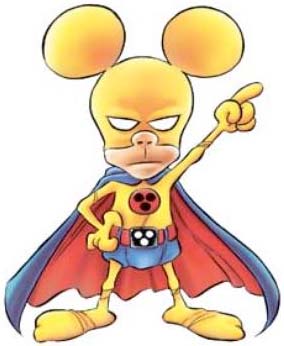 Rat-Man


Deboroh La Roccia

Religion: not determined yet

Name: Rat-Man

Alter Ego: Deboroh La Roccia

Other Names: Deboroh Valker; Rat-Boy; Zappo; L'Uomo Imbarazzante; Zappo the Embarrassing Man; Marvelmouse

Classification:

hero
Publisher(s): Marvel Italia

Panini Comics
First Appearance: "Spot 2" supplement to L'Eternauta #86 (June 1989)
Creators: Leo Ortolani
Super? (Has Super Powers/Special Abilities/Technology): Yes
Number of Appearances: 152
Comic Book Appearances: 100
TV, Film Appearances: 52
Teams/Affiliations: Secret Squad
Enemy of: Il Buffone
Occupation: millionaire
Nation: Italy
Gender: male
Note: parody of Batman and other super-heroes
Rat-Man is utterly inept, has no special abilities and completely lacks common sense. He is a mostly ineffective but very humorous super-hero.