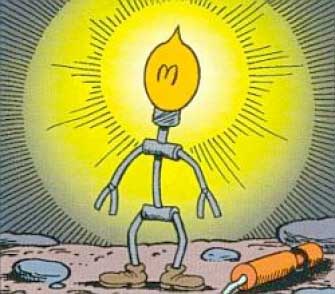 The Religious Affiliation of


Little Helper


Religion: N.A.

Name: Little Helper
Other Names: The Helper; Helper; Little Bulb; Gyro's Helper
Classification:

supporting character
First Appearance: Uncle Scrooge #15 (Sep.-Nov. 1956): "The Cat Box"
Creators: Carl Barks
Number of Appearances: 427
Comic Book Appearances: 409
TV, Film Appearances: 18
Occupation: assistant
Worked for: Gyro Gearloose
Location: Duckburg, Calisota, USA
Gender: not applicable
Note: Gyro Gearloose's helper robot; has light bulb for head
Little Helper regularly appeared alongide Gyro Gearloose in the animated TV series "DuckTales" (1987-1990). No voice actor was cast for Little Helper because the character does not speak.