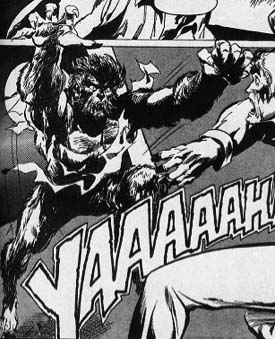 Violet


Religion: not determined yet

Name: Violet

Classification:

supporting character
Publisher(s):

First Appearance: Weird Tales (vol. 38) #5 (May 1945): "The Man Who Cried "Wolf!""
First Appearance (Additional Details): (comics) Monsters Unleashed #1
Creators: Robert Bloch, Boris Dolgov
Super? (Has Super Powers/Special Abilities/Technology): Yes
Number of Appearances: 2
Comic Book Appearances: 1
Prose/Text Book/Story Appearances: 1
Enemy of: Lisa
Ally: Charles
Race: white
Gender: female
Note: Charles' wife; became a werewolf
Violet was the wife of Charles (a writer). A werewolf began stalking Violet. Violet told Charles about this, but he did not believe her, even though she showed him wolf tracks.
Charles secretly had a mistress named Lisa. Violet learned about Charles' relationship with Lisa. Lisa and Charles tried to convince Violet that she was insane. They wanted to get rid of her in this way so they could pursue their romance.
Finally Charles discovers there really is a werewolf in their area, and the werewolf is none other than his own mistress: Lisa.
Lisa, changing into her werewolf form, tries to kill Violet. Lisa bites Violet in the throat. But before Lisa can kill Violet, Lisa is killed by hunters.
The werewolf curse had been transferred to Violet before Lisa died. At the end of the story, Violet transforms into a werewolf and attacks Charles.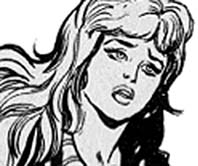 This character is in the following story which has been indexed by this website:

Weird Tales (vol. 38) #5 (May 1945): "The Man Who Cried "Wolf!""

Suggested links for further research about this character:
- http://www.marvunapp.com/Appendix5/violetwerewolf.htm
- http://www.marvunapp.com/master/viaviq.htm
- http://www.marvunapp.com/master/wejwg.htm
- http://www.marvunapp.com/master/lipln.htm
- https://www.comics.org/issue/26328/
- http://www.metamorphose.org/entry/show.htp?rowid=3784&se0=entry&se1=show&sas=name%3Dwere%26se0%3Dentry_category%26se1%3Dshow%26sas%3Dse0%253Dentry_history%2526se1%253Dwhatsnew%26pickletter%3DL