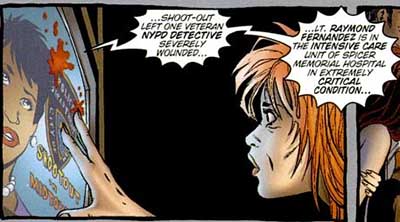 Raymond Fernandez


Religion: not determined yet

Name: Raymond Fernandez

Other Names: Lt. Raymond Fernandez

Classification:

supporting character
Publisher(s):

First Appearance: Painkiller Jane (vol. 1) #0 (Jan. 1999): "Jane's Addiction"
Creators: Brian Augustyn, Jimmy Palmiotti, Joe Quesada, Amanda Conner
Number of Appearances: 1
Teams/Affiliations: NYPD
Family/Relative: Maureen Fernandez (wife)
Occupation: police
Location: New York City, New York, USA
Race: Hispanic
Gender: male
Note: husband of Jane Vasko's partner Maureen
Jane Vasko (the woman who would become the vigilante Painkiller Jane) went through police academy with Maureen Quinn, the woman who became her close friend and partner.
Maureen and Jane were deep undercover, posing as drug addicts, in the drug production and drug dealing organization of the Blanco Brothers. After being undercover for months, Maureen turned on the television one day only to see a report about her husband: Lt. Raymond Fernandez. A TV reporter was saying: "...shoot-out left one veteran NYPD detective severely wounded... Lt. Raymond Fernandez is in the intensive care unit of Spicer Memorial Hospital in extremely critical condition..."
Maureen instantly ran out to be with her wounded husband. One of the Blanco Brothers, suspicious about why his drug-adled "girlfriend" ran out like that, had one of his thugs follow her. Thus he learned that she was a cop. The Brothers realized that Jane Vasko must be an undercover cop as well. They had their chemist, Dr. Bob, administer a drug cocktail of an untested drug ("the Bomb") in the hopes that it would cause her intense pain and then killer her.
Their plan half-worked. The drug cocktail caused incredible pain to Jane. It put her into a coma for two years. But she lived, emerging with an amazing healing factor and a desire for revenge that transformed her into the vigilante Painkiller Jane.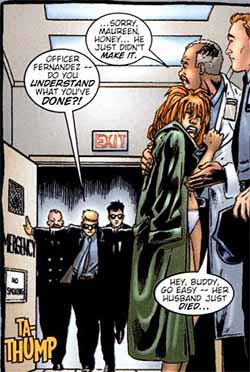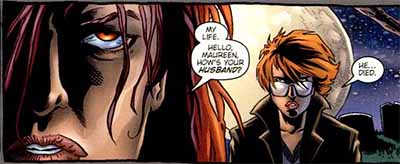 This character is in the following 2 stories which have been indexed by this website:

Essential Painkiller Jane (2006): "Jane's Addiction"
(mentioned)

Painkiller Jane (vol. 1) #0 (Jan. 1999): "Jane's Addiction"
(mentioned)