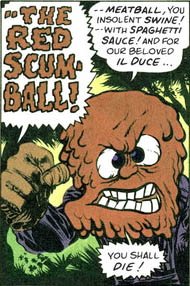 The Religious Affiliation of


Red Meatball with Spaghetti Sauce


Religion: Italian fascist

Name: Red Meatball with Spaghetti Sauce
Other Names: Red Meatball; The Red Scum-Ball; The Mechanical Beast
Classification:

villain
Publisher(s): Kitchen Sink Press
First Appearance: Megaton Man (vol. 1) #2 (Feb. 1985): "Leavings and Beginnings!"
Creators: Don Simpson
Super? (Has Super Powers/Special Abilities/Technology): Yes
Number of Appearances: 1
Enemy of: Megaton Man
Worked for: Benito Mussolini
Nation: Italy
Race: white
Gender: male
Note: Red Skull parody; Mussolini's right-hand man
As part of a test to see if he was fit to join the Megatropolis Quartest, the remaining three Quartet members dumped Megaton Man on Bug-Eyed Island. While there, Megaton Man encountered an old villain: The Red Meatball.
When Megaton Man first saw him on the island, the Red Meatball was controlling a gigantic mechanical "robot" (really, an exo-suit) which Megaton Man referred to as the "Mechanical Beast."
The voice within the Mechanical Beast boomed: "I live -- AGAIN!"
Megaton Man exclaimed: "That voice! Coming from the Mechanical Beast! It's hauntingly familiar! I'd recognize it anywhere -- even after all these decades!"
Then the Mechanical Beast stepped on Megaton Men, smashing him into the ground.
The Red Meatball emerged from the Mechanical Beast machine and confronted Megaton Man, who was still dazed, on the ground. The Red Meatball said: "How easily you have fallen into my trap, Man of Molecules! Now, after all these decades, the Axis rules -- supreme!"
Megaton Man replied: "You! But of course! Mussolini's right-hand man-- the Red Scum-Ball!"
Red Meatball angrily corrected him, saying "--Meatball, you insolent swine! --with Spaghetti Sauce! And for our beloved Il Duce-- you shall die!"
Apparently Megaton Man (and probably many other people) routinely called this villain the "Red Scumball," but this is not what he called himself.
Rex Rigid (Liquid Man) was in a flying craft, observing. He said to his teammate Yarn Man: "What an inopportune time for Red Meatball with Spaghetti Sauce to turn up alive! We're not ready -- as a team! We needed more time!"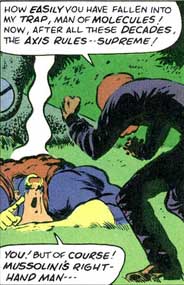 Suggested links for further research about this character and the character's religious affiliation:
- https://www.comics.org/issue/39683/