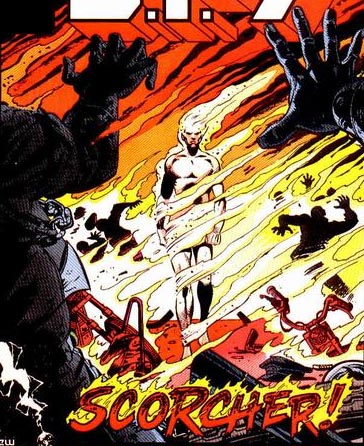 unnamed motorcycle gang


Name: unnamed motorcycle gang

Other Names: Biker gang

Classification:

villains

group
Publisher(s):

New Universe
First Appearance: D.P. 7 #6 (Apr. 1987): "Revenge"
Creators: Mark Gruenwald, Paul Ryan, Romeo Tanghal
Number of Appearances: 2
Enemy of: Scuzz
Type of Organization/Group: biker, gang member
Note: beat Scuzz (DP7) badly; he later exacted his revenge
Dennis "Scuzz" Cuzinski left the other paranormals in the group known as "D.P.7" and struck out on his own for a time. While traveling in Wisconsin on his own, he encountered a motorcycle gang. The bikers in the gang ended up beating Scuzz badly. Scuzz was in the hospital for a few days, followed by two weeks of recuperation. After he had regained his health and strength, Scuzz went looking for the motorcycle gang. He found them. Calling himself "The Scorcher," he exacted violent revenge on the gang.
Number of group members listed below: 2
Character
(Click links for info about character
and his/her religious practice, affiliation, etc.)
Religious
Affiliation
Team(s)


[Notes]

Pub.
#
app.
unnamed motorcycle gang
[attacked Scuzz, who burned him badly]

New Universe

2

[beat Scuzz (DP7) badly; he later exacted his revenge]

New Universe

2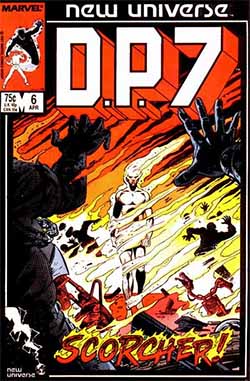 Suggested links for further research about this character:
- https://www.comics.org/issue/42749/
- http://marvel.wikia.com/DP7_Vol_1_6
- http://www.technohol.com/new-u/dp7/dp7-03.asp
- http://marvel.wikia.com/DP7_Vol_1_7