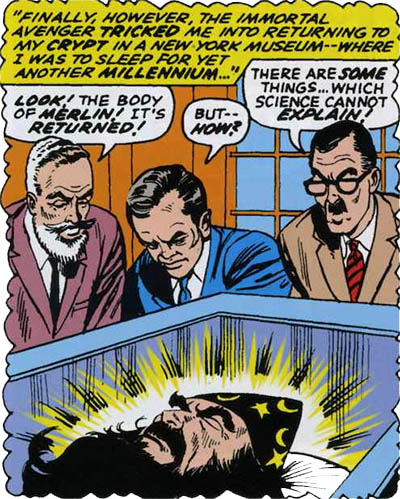 unnamed museum staff


Name: unnamed museum staff

Other Names: unnamed museum patrons

Classification:

supporting characters

group
Publisher(s):

First Appearance: The X-Men (vol. 1) #30 (Mar. 1967): "The Warlock Wakes!"
Creators: Roy Thomas, Jack Sparling, John Tartaglione
Number of Appearances: 1
Type of Organization/Group: staff
Worked for: The Museum of the City of New York
Location: New York City, New York, USA
Race: white
Note: saw Warlock's body return to crypt in museum
Three people in a New York City museum observed that the sleeping body of Warlock (Merlin Demonspawn) returned to his crypt. These people were apparently museum staff. They look like they are based on real people, probably caricatures of famous people. One archivist commented that the three museum staff members look like Sigmund Freud, James Cagney and Adolf Hitler. Another archivist classified these individuals as "unnamed museum patrons."