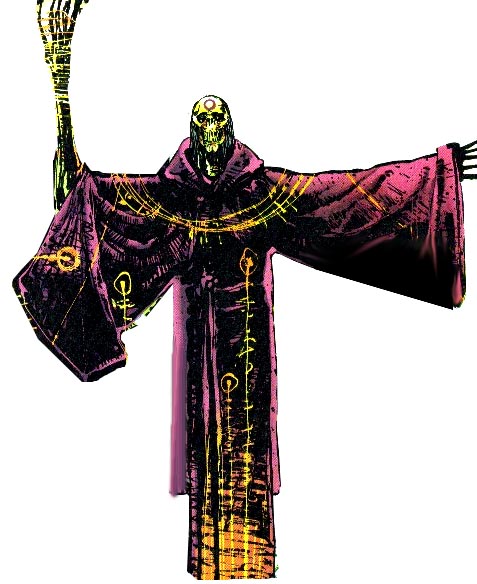 The Religious Affiliation of


Mahapralaya


Religion: Nihilist; Cult of Entropy (leader); apparently born Hindu

Name: Mahapralaya
Other Names: Architect of the Destruction of All Worlds; Lord of the Cult of Entropy
Classification:

villain

clergy/religious leader
Publisher(s):

First Appearance: Man-Thing (vol. 3) #5 (Apr. 1998); (face seen, named) Man-Thing (vol. 3) #6 (May 1998)
Creators: J.M. DeMatteis, Liam Sharp
Super? (Has Super Powers/Special Abilities/Technology): Yes
Number of Appearances: 2
Enemy of: Howard the Duck, Man-Thing
Gender: male
Mahapralaya took his name from the Hindu theory about the ultimate dissolution of the universe. As an adult, Mahapralaya was clearly a nihilist, but it seems likely he grew up as a Hindu. He is described as having developed his nihilistic beliefs while growing up in a world of poverty, abuse, shame, and neglect. Certainly this unfortunate childhood could have happened nearly any where. But the fact that he chose a specifically Hindu name for himself, coupled with the description of his impoverished upbringing, leads us to believe he grew up in India in an impoverished and dysfunctional family.