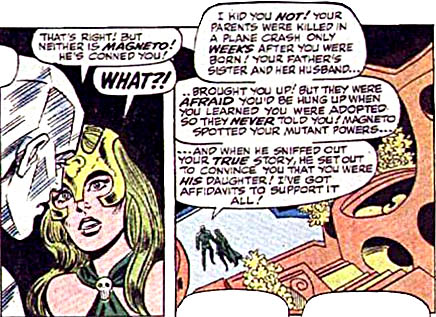 Lorna's adoptive mother


Religion: not determined yet

Name: Lorna's adoptive mother

Classification:

supporting character
Publisher(s):

First Appearance: X-Men (vol. 1) #52 (Jan. 1969): "Twilight of the Mutants!"
Creators: Arnold Drake, Don Heck, Werner Roth, John Tartaglione
Number of Appearances: 1
Family/Relatives: Polaris (daughter), Arnold Dane (brother), Lorna's adoptive father (husband)
Birth Place: USA
Gender: female
Note: raised Polaris as her daughter
Soon after Lorna Dane met the X-Men, the mutant villain Mesmero and his leader Magneto (actually a robot copy of Magneto) told Lorna that she was the daughter of Magneto. X-Men member Iceman went to Lorna's home down to investigate this claim. He talked to her parents, and found out that they were not Lorna's biological parents. But they gave him the "full story", at least as far as it was known at the time. (Years later, it turned out that much of what they told Iceman was true, but they left out some details).
Iceman brought Lorna the details of her parentage, including documents and affidavits, proving to her that she was not Magneto's daughter. This information helped her to cast off the pressure she felt to side with Magneto, even though she knew he was evil. Lorna ended up helping the X-Men against Magneto (really a robot, as mentioned).
The details that Lorna's supposed father and mother in her hometown told Iceman, and which Iceman told Lorna, in X-Men (vol. 1) #52, are this: Lorna's biological parents were killed in a plane crash only a few weeks after Lorna was born. Lorna was then placed with the sister of Lorna's father and her husband, who adopted Lorna as their daughter. They never told Lorna about the fact that she was adopted, letting her believe that they were her biological parents. They did not tell Lorna because they were worried she would be "hung up" (severely bothered) by the fact that she had been adopted.
Lorna's adoptive mother, then, was actually her biological aunt. Her adoptive father was really her uncle, to whom she was not actually related to by blood.
Many years later, in Uncanny X-Men #s 430 and 431, Lorna finally learned, through a reliable genetic test, that Magneto was her actual biological father. Still later, in X-Factor #243, Longshot helped Lorna learn the complete truth about her parentage: Lorna's biological mother Suzanna Dane really did die in a plane crash, but the man Suzanna was married to (Arnold Dane) was not Lorna's biological father. Magneto had an affair with Suzanna. Arnold and Suzanna raised Lorna (the biological daughter of Magneto and Suzanna) for three years before Arnold learned about the affair. He confronted his wife while they were on a plane together, which he was piloting. The argument upset their three-year-old daughter Lorna, whose mutant power manifest for the first time and destroyed the plane.
Arnold and Suzanna Dane died in the plane crash, and Lorna was presumably then placed, as Iceman told her, with the parents she knew as her biological parents. So most of what Iceman had been told by Lorna's supposed parents was true, except that Lorna's supposed aunt was really her step-aunt, and was not the actual sister of Lorna's biological father. Lorna's step-aunt was the actual sister of Lorna's step-father, the husband of Lorna's biological mother.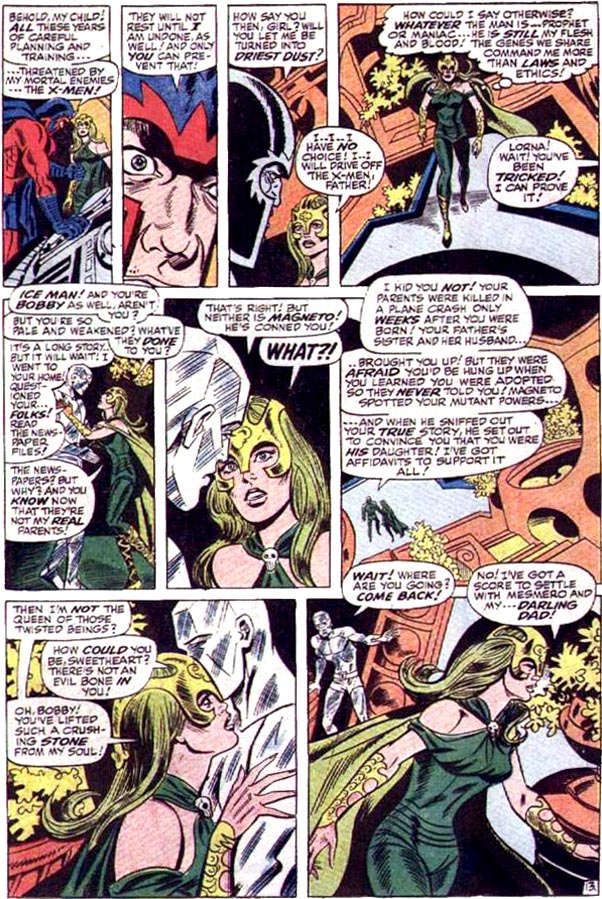 This character is in the following story which has been indexed by this website:

X-Men (vol. 1) #52 (Jan. 1969): "Twilight of the Mutants!"
(mentioned)

Suggested links for further research about this character:
- http://www.uncannyxmen.net/db/issues/showquestion.asp?fldauto=5195