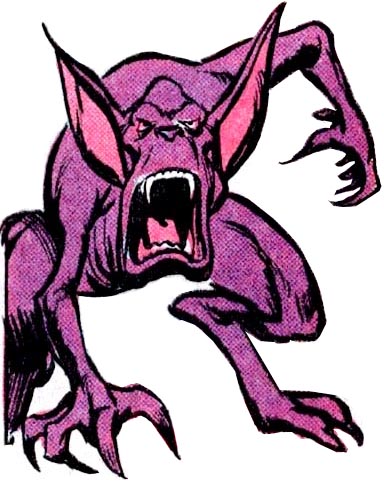 The Religious Affiliation of


The Squidge


Religion: N.A.

Name: The Squidge
Other Names: Squidge
Classification:

supporting character
Publisher(s):

First Appearance: Magik (vol. 1) #3 (Feb. 1984): "Soulquest"
Creators: Chris Claremont, Ron Frenz, Tom Palmer
Number of Appearances: 1
Owner: Magik
Occupation: pet
Birth Place: Limbo
Note: rodent-like creature Illyana practiced magic on
"The Squidge" was a small rodent-like creature which Illyana Rasputin raised from birth as a pet while she was growing up in Limbo. She was about 11- or 12-years-old when she kept the creature as a pet.
Illyana called this creature "Squidge" after the "strange and delightful noises it makes when talking."
Illyana said that she loved the creature, and that it trusted her as it would one of it's own kind. She said that the creature has a simple soul. And then Magik, as part of her training under the demon-lord Belasco, used sorcery to transform the Squidge into a violent demonic beast.
The transformed Squidge attacked Illyana and raked her cheek with its newly-dangerous claws. Illyana swatted her pet away. The confused creature fled, but "Cat" (a radically-transformed alternative timeline version of Kitty Pryde) caught the Squidge, killed it and ate it.
The Squidge and its fate served to illustrate how much the once-innocent Illyana Rasputin had been changed by her years living in Limbo, particularly by the time she spent as the evil Belasco's apprentice.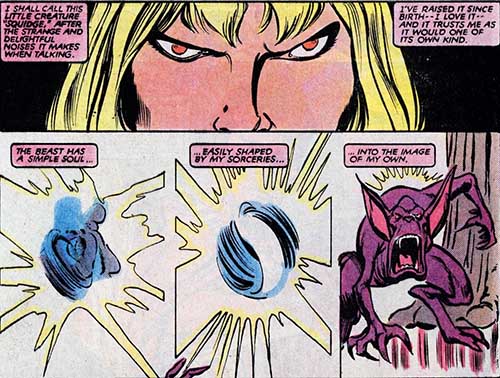 This character is in the following story which has been indexed by this website:

Magik (vol. 1) #3 (Feb. 1984): "Soulquest"
(9-panel cameo)