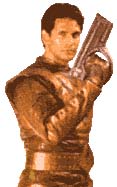 The Religious Affiliation of


Captain Vyom


Religion: Yoga

Name: Captain Vyom
Other Names: The Sky Warrior
Classification:

hero
First Appearance: (comics) Captain Vyom #1; (TV) Captain Vyom: The Sky Warrior: season 1, episode 1
NOTE: This is our current best assessment of the first appearance of this character, but this has been flagged in our database as uncertain.
Creators: Milind Soman (actor)
Super? (Has Super Powers/Special Abilities/Technology): Yes
Number of Appearances: 54
Nation: India
Gender: male
Vyom was the son of one of the Earth's top scientists and the grandson of the ruler of the parasites from the 13th Dimension, a race of beings 10 million years aheads of us in civilization. He had been brought up in a monastery in Ladakh, and he had yogic powers of concentration.