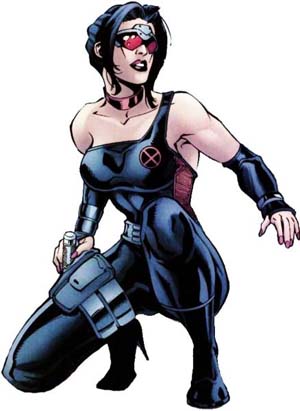 Sage


Tessa Hartley

Religion: not determined yet

Name: Sage

Alter Ego: Tessa Hartley

Other Names: Tessa Niles; Lady Tessa; "Diana Fox"; Britannia

Classification:

hero
Publisher(s):

First Appearance: The Uncanny X-Men (vol. 1) #132 (Apr. 1980): "And Hellfire is Their Name!"
First Appearance (Additional Details): (as Tessa) The Uncanny X-Men (vol. 1) #132 (Apr. 1980): "And Hellfire is Their Name!"; (as Sage) X-Men (vol. 2) #109 (Feb. 2001): "Ceremonies"
Creators: John Byrne, Chris Claremont, Terry Austin
Super? (Has Super Powers/Special Abilities/Technology): Yes
Number of Appearances: 238
Teams/Affiliations: Excalibur; The Council of the Chosen; The Hellfire Club; X-Men; X-Treme Sanctions Executive
Enemy of: Lord Imperial, Chung Yu, Voldemir Zhivago
Occupation: advisor, mercenary, spy
Worked for: Black King
Race: white
Gender: female
It is certain almost that "Tessa" is a pseudonym. The real birth name of the former Hellfire Club associate known as "Tessa" (who became known as the X-Man named "Sage") is, as yet, unrevealed.
This character is in the following 68 stories which have been indexed by this website:

Classic X-Men #6 (Feb. 1987): "Merry Christmas, X-Men... (supplement)"

Marvel Knights Spider-Man #6 (Nov. 2004): "Venomous: Part Two"
(1-panel cameo)

Marvel Universe: The End #1 (May 2003): "Predestination"

New X-Men

The Uncanny X-Men

X-51 #0 (1999): "A Mere Technicality"

X-Men

X-Men Unlimited

X-Men: Hellfire Club #4 (Apr. 2000): "Also Sprach Sebastian"

X-Treme X-Men

X-Treme X-Men: Savage Land

X-Treme X-Men: X-Pose

Suggested links for further research about this character:
- http://www.adherents.com/lit/comics/Sage.html
- http://www.comicvine.com/sage/29-4559/
- http://www.marvunapp.com/master/fosfoz.htm
- http://www.marvunapp.com/master/x0xmxz.htm
- http://www.comicboards.com/marvelguide/s.htm
- http://www.marvunapp.com/master/saasak.htm
- http://www.marvunapp.com/master/teotez.htm
- http://www.marvunapp.com/master/xaxz.htm
- http://www.comiccollectorlive.com/LiveData/Character.aspx?id=764c1b4f-1247-49a5-aa5b-b967af2096f8