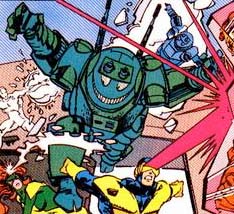 The Religious Affiliation of


The Right


Religion: anti-mutant

Name: The Right
Other Names: Hammer; Smile-Faces
Classification:

villains

group
Publisher(s):

First Appearance: X-Factor (vol. 1) #17 (June 1987): "Die, Mutants, Die!"
Creators: Louise Simonson, Walt Simonson, Bob Wiacek
Super? (Has Super Powers/Special Abilities/Technology): Yes
Number of Appearances: 19
Enemy of: X-Factor
Type of Organization/Group: terrorist
Worked for: Cameron Hodge
Note: wore armor w/machine guns, happy faces
The Right was an anti-mutant terrorist organization founded by Cameron Hodge, who long kept his stridently anti-mutant sentiments hidden from his co-workers in X-Factor.
A fragment of the Right split off and became another terrorist group: "Hammer." (This Hammer group should not to be confused with the federal security agency H.A.M.M.E.R., the successor to S.H.I.E.L.D. which was founded by Norman Osborn).
Number of group members listed below: 4
Character
(Click links for info about character
and his/her religious practice, affiliation, etc.)
Religious
Affiliation
Team(s)


[Notes]

Pub.
#
app.
The Right (ally)
[created "Creatures of Paradise" (uplifted animals)]
2
The Right (leader); X-Factor (staff)
71
The Right
10

[wore armor w/machine guns, happy faces]

19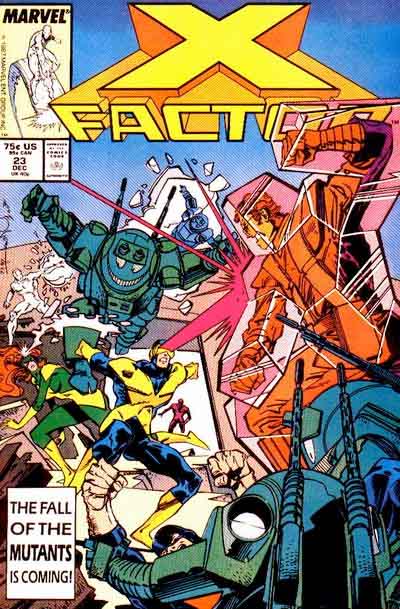 Suggested links for further research about this character and the character's religious affiliation:
- http://marvel.wikia.com/Right_(Earth-616)
- http://www.uncannyxmen.net/db/issues/showquestion.asp?fldAuto=2934
- http://www.marvunapp.com/master/rierm.htm
- http://marvel.wikia.com/X-Factor_Vol_1_17
- https://www.comics.org/issue/42993
- http://comicbookdb.com/issue.php?ID=24328