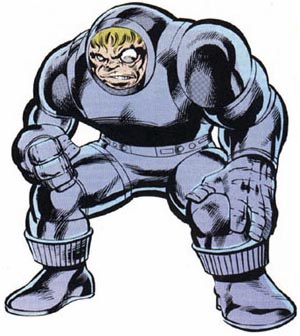 The Religious Affiliation of


Quasimodo


Quasi-Motivational Destruct Organism

Religion: N.A.

Name: Quasimodo
Alter Ego: Quasi-Motivational Destruct Organism
Classification:

villain
Publisher(s):

First Appearance: Fantastic Four Annual #4 (Nov. 1966): "The Torch That Was!"
Creators: Stan Lee, Jack Kirby, Joe Sinnott
Super? (Has Super Powers/Special Abilities/Technology): Yes
Number of Appearances: 9
Enemy of: The Fantastic Four
Ally: Mad Thinker
Occupation: wanderer
Gender: male
Note: former computer
This character is in the following 10 stories which have been indexed by this website:

Captain America & the Korvac Saga #1 (Feb. 2011): "Strange Days"

Dark Reign Files #1 (Apr. 2009)

The Defenders (vol. 2) #1 (Mar. 2001): "Once More, the End of the World..."

Fantastic Four

The Incredible Hulk Annual #18 (June 1992): "Mano a Mano"

Marvel Team-Up (vol. 1) #22 (June 1974): "The Messiah Machine!"

The Torch #1 (Nov. 2009)
(mentioned)

The X-Men (vol. 1) #48 (Sep. 1968): "Beware Computo Commander of the Robot Hive!"

Suggested links for further research about this character and the character's religious affiliation:
- http://www.comicboards.com/marvelguide/q.htm
- http://www.marvunapp.com/master/qaque.htm
- http://marvel.wikia.com/Fantastic_Four_Annual_Vol_1_4
- https://www.comics.org/issue/20470
- http://comicbookdb.com/issue.php?ID=37393