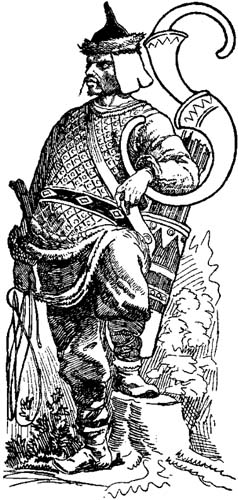 The Religious Affiliation of


Attila the Hun


Religion: Tengriism

Name: Attila the Hun
Other Names: Atilla; Attila; Atilla the Hun
Classification:

villain

real/historical person
Publisher(s):

Earliest Appearance Listed in This Database: Attila (1918)
Creators: Febo Mari
Number of Appearances: 60
Comic Book Appearances: 33
TV, Film Appearances: 26
Video Game, Computer Game Appearances: 1
Occupation: ruler
Nation: Hungary
Gender: male
In panel 3 on page 3 in Superman #167 (Feb. 1964), Lex Luthor is in his secret lair when he walks by a display of four statues of his heroes: Atilla the Hun, Genghis Khan, Captain Kidd an Al Capone. Luthor thinks, "My heroes . . . the greatest marauders of the ages! I dreamed of being as great as they and I would be, if Superman didn't always stop me!"
Attila the Hun's name is spelled "Atilla the Hun" in the legend below the statue in this panel.
This character is in the following 7 stories which have been indexed by this website:

Attila (1918)
(lead character)

The Avengers (vol. 1) #10 (Nov. 1964): "The Avengers Break Up!"
(someone disguised or dressed as)

Hulk (vol. 3) #5 (Oct. 2008): "Rolling Thunder"
(mentioned)

Leading Comics #3 (Summer 1942): "The Tyrants of Time!"

Marvel Knights 4 #16 (May 2005): "Divine Time, Part 2"
(mentioned)

Superman (vol. 1) #167 (Feb. 1964): "The Team of Luthor and Brainiac!"
(statue)

X-Men (vol. 1) #51 (Dec. 1968): "The Devil Had a Daughter!"
(mentioned)

Suggested links for further research about this character and the character's religious affiliation:
- http://en.wikipedia.org/wiki/Attila_the_Hun
- http://www.comicvine.com/attila-the-hun/29-7745/
- http://www.imdb.com/character/ch0027528/
- http://www.absoluteastronomy.com/topics/Tengriism
- http://www.bookrags.com/research/hun-religion-eorl-06/
- http://en.wikipedia.org/wiki/Huns
- https://www.comics.org/issue/18226/
- http://comicbookdb.com/issue.php?ID=55142