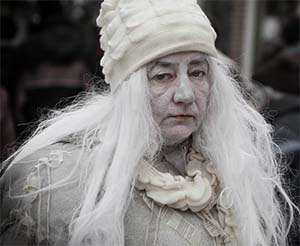 The Religious Affiliation of


The Ghost of Christmas Past


Name: The Ghost of Christmas Past

Other Names: The Spirit of Christmas Past

Classification:

supporting character
Publisher(s):

First Appearance: A Christmas Carol (1843)
Creators: Charles Dickens, John Leech
Super? (Has Super Powers/Special Abilities/Technology): Yes
Number of Appearances: 81
Comic Book Appearances: 1
TV, Film Appearances: 80
Enemy of: Willie Lumpkin
Note: sent to teach meaning of Christmas
The Ghost of Christmas Past appears to be a ghost or spirit. It has been speculated that this "ghost" is actually an angel, i.e., a Heavenly messenger. This designation is apparently based on the ghost's mission and activities.
The Ghost was sent to teach J. Jonah Jameson the true meaning of Christmas. Unfortunately, the Ghost got lost en route to this assignment and ended up tormenting mild-mannered mail carrier Willie Lumpkin. This resulted in Mr. Lumpkin hating Christmas.
This story is a parody of Charles Dicken's much-revisited A Christmas Carol.
This character is in the following 5 stories which have been indexed by this website:

A Christmas Carol (1843)

Catwoman (vol. 3) #77 (May 2008): "Waking Up On the Wrong Side of the Universe, Part Three"
(mentioned)

Marvel Comics Presents (vol. 1) #18 (Early May 1989): "A Christmas Card"

Marvel Holiday Special 2004 #1 (Jan. 2005): "Jonah's Holiday Carol"

Vengeance of the Moon Knight #2 (Dec. 2009): "Shock and Awe: Chapter 2: The Sentry's Curse"
(mentioned)

Suggested links for further research about this character and the character's religious affiliation:
- http://www.imdb.com/character/ch0029511/
- http://www.marvunapp.com/master/gfgh.htm
- https://www.comics.org/issue/46239/
- http://comicbookdb.com/issue.php?ID=12732