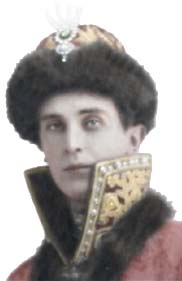 The Religious Affiliation of


Prince Felix Yusupov


Religion: Russian Orthodox

Name: Prince Felix Yusupov
Other Names: Prince Felix Felixovich Yusupov, Count Sumarokov-Elston; Yussupov; Prince Felix Yusupov; Yusupov; Yossopov; Iusupov; Youssoupov; Youssoupoff; Feliks, Graf Sumarrokow-Elston; Prince Felix Yusapov
Classification:

supporting character

real/historical person
Publisher(s):

Earliest Appearance Listed in This Database: X-Men: Colossus Bloodline #3 (Jan. 2006)
Creators: David Hine, Jorge Lucas
Number of Appearances: 15
Comic Book Appearances: 1
TV, Film Appearances: 14
Enemy of: Grigori Rasputin
Occupation: aristocrat, assassin, prince
Birth Place: St. Petersburg, Russia
Gender: male
Note: participated in assassination of Grigory Rasputin (1916)
Prince Felix Yusapov was seen in a flashback participating in the assassination of Grigory Rasputin, the famed Russian peasant mystic and faith healer. This was a real event, and Yusapov was a real person. Although this noble is of historical importance for many reasons, he is best remembered for his participation in the Rasputin assassination. The prince is remembered as the chief assassin.
The assassination of Rasputin was a significant event in Russian religious history and had ramifications relating to the relationships of the Catholic Church, Russian Orthodoxy, and the country's aristocracy.
Prince Yusupov has a Tartar ethnic background on his mother's side, but the Yusupov noble family had been Russian Orthodox for generations before Prince Felix was born. This dates back to "the 15th century [when] Khan Yusuf became the head of the Nogai Horde. Khan Yusuf allied himself with Tsar Ivan the Terrible, but the former allies eventually became enemies. Khan Yusuf's daughter Sumbecca was Queen of Kazan, and when Kazan was razed by Ivan, Khan Yusuf's daughter was taken as prisoner to Moscow. After Khan Yusuf died, another period of infighting between his descendants followed until the 17th century, when Abdul Mirza, another descendant, converted to Orthodoxy under the name of Dmitry. After the conversion, Tsar Feodor I bestowed upon him the title of Prince Yusupov" (http://en.wikipedia.org/wiki/House_of_Yusupov).
This character is in the following story which has been indexed by this website:

X-Men: Colossus Bloodline #3 (Jan. 2006)

Suggested links for further research about this character and the character's religious affiliation:
- http://en.wikipedia.org/wiki/Felix_Yusupov
- http://www.imdb.com/character/ch0040543/
- http://en.wikipedia.org/wiki/House_of_Yusupov
- http://www.orthodoxengland.org.uk/meanrus.htm
- http://www.marvunapp.com/master/yfyz.htm
- https://www.comics.org/issue/258650/
- http://comicbookdb.com/issue.php?ID=25755