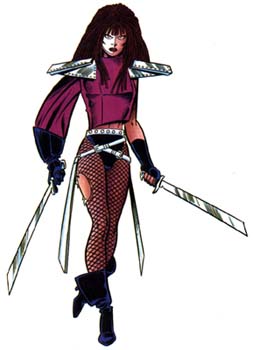 The Religious Affiliation of


Typhoid Mary


Mary Alice Walker

Religion: Catholic

Name: Typhoid Mary
Alter Ego: Mary Alice Walker
Other Names: Mutant Zero; Typhoid; Mary Menzinis; Bloody Mary; Virgin Mary; Lyla
Publisher(s):

First Appearance: Daredevil (vol. 1) #254 (May 1988): "Typhoid!"
First Appearance (Additional Details): (as unnamed prostitute accidentally "killed" by Daredevil early in career) Daredevil: The Man Without Fear #2 (Nov. 1993); (as Mutant Zero) Avengers: The Initiative #4 (Sep. 2007): "Green Zone"
Creators: Ann Nocenti, John Romita Jr., Al Williamson
Super? (Has Super Powers/Special Abilities/Technology): Yes
Number of Appearances: 136
Comic Book Appearances: 135
TV, Film Appearances: 1
Teams/Affiliations: Shadow Initiative
Enemy of: Daredevil
Occupation: mercenary, prostitute
Worked for: The Kingpin, Henry Peter Gyrich
Birth Place: New York City, New York, USA
Race: white
Gender: female
Very early in Matt Murdock's career as the costumed vigilante "Daredevil," he accidentally caused the death of a prostitute. This happened when he had tracked a criminal named Angelo to a brothel and ended up getting into a fight with him. A number of the women at the brothel attacked Daredevil. As he thrashed about trying to get free, one of the women flew threw a window and fell to her death. This incident was first revealed in issue #2 of the Daredevil: Man Without Fear mini-series, written by Frank Miller.
Many years later, he suffered a psychotic break in which his personality shattered into multiple identities which he could not keep straight. In Daredevil (vol. 1) #347, Matt Murdock became recovering from this psychotic break and realized that it stemmed from this earlier incident, something he was never able to get past, but something which his mind tried to block out.
Matt Murdock ended up going to talk to his biological mother, Sister Maggie (now a Catholic nun) and confessing his sin to her. She told him that while she loved him and always would, it was God who had to forgive him for what he did, not her.
In an act of atonement for what he did, Matt leaped from a skyscraper, intending to commit suicide. At the last second, he realized that was the coward's way out and he maneuvered himself into a window so he wouldn't die.
Later, in Daredevil/Deadpool Annual 97, it was revealed that the prostitute did not actually die. Daredevil was mistaken in his belief that he had killed her. In fact, the woman who seemingly fell to her death eventually became Typhoid Mary, one of Daredevil's most dangerous foes.
When the extremely mysterious "Mutant Zero" first appeared in Avengers: The Initiative #4 (Sep. 2007) -- written by Dan Slott, with art by Stefano Caselli -- nobody had any idea that she was really Typhoid Mary. This surprise was not revealed until over a year later, in Avengers: The Initiative #20 (Feb. 2009).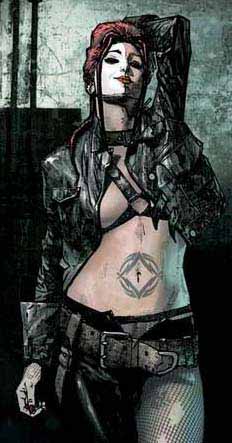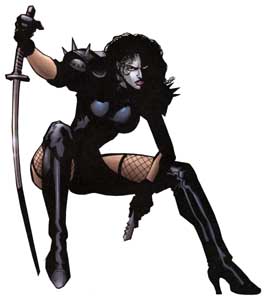 This character is in the following 63 stories which have been indexed by this website:

Avengers: The Initiative

Captain America

Daredevil / Deadpool Annual '97 (Sep. 1997): "Whomsoever Fights Monsters..."

Daredevil

Daredevil: The Man Without Fear #2 (Nov. 1993)

Dark Reign Files #1 (Apr. 2009)

Hawkeye (vol. 4) #8 (Apr. 2013): "My Bad Penny"

Marvel Comics Presents

Marvel Fanfare (vol. 1) #45 (Aug. 1989)

The New Avengers

Suggested links for further research about this character and the character's religious affiliation:
- http://en.wikipedia.org/wiki/Typhoid_Mary_(comics)
- http://www.comicvine.com/typhoid-mary/29-1536/
- http://www.imdb.com/character/ch0005582/
- http://comicbookdb.com/character.php?ID=1961
- http://www.comicboards.com/marvelguide/t2.html
- http://www.marvunapp.com/master/twtz.htm
- http://www.marvunapp.com/master/muomuz.htm
- http://comicbookdb.com/issue.php?ID=99432
- https://www.comics.org/issue/44456/
- https://www.comics.org/issue/351334/
- http://www.comicvine.com/daredevil/29-24694/