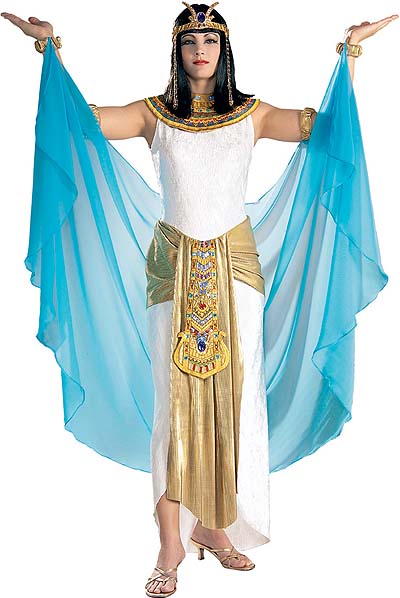 The Religious Affiliation of


Cleopatra


Religion: Egyptian classical religion

Name: Cleopatra
Other Names: Kleopatra; Cleopatre
Classification:

real/historical person
Publisher(s):

Earliest Appearance Listed in This Database: Cleopatra's Tomb (1899)
Creators: Georges Melies, Jeanne d'Alcy (actress)
Number of Appearances: 203
Comic Book Appearances: 66
TV, Film Appearances: 135
Video Game, Computer Game Appearances: 2
Birth Place: Alexandria, Egypt
Gender: female
Ancient Egyptian religious beliefs were actually quite important in Cleopatra's life. She herself was thought to be an incarnation of the Egyptian goddess Isis. At one point she put a curse on her tomb.
When did Cleopatra first appear in comics, or more specifically, in a comic book published by DC Comics? At this point we can not say for certain, but one Silver Age appearance we know of her is more of a "mention" than an actual appearance, although her image is depicted (but it is an actress playing her, not the character herself).
In "Gotham Gang Line-Up!" in Detective Comics #328 (June 1964), a gangster named "Hippo" recalls his reason for wanting to kill Batman. He explained, "Last year, when a movie about Cleopatra was being made, the star was wearing a $100,000 necklace for publicity. So I planted one of my gang on the set disguised as an Egyptian charioteer. Just as he snatches it and starts escaping, Batman comes along and chucks a spear right between the spokes of a chariot wheel . . . A hundred grand job -- wrecked -- by Batman!"
In one of the three panels in which Hippo relates this story, we see in the foreground a picture of the actress dressed up as Cleopatra, watching as Batman throws a spear into the spokes of a speeding chariot's wheel.
It is quite possible that Cleopatra was mentioned in or appeared in a comic book published by DC Comics prior to this story. If we find such an occurence, we will update this record with regards to Cleopatra's "first appearance."
The Comic Book Database at ComicBookDB.com does not note any appearance earlier than this one when looking for Cleopatra as a "character."
This character is in the following 3 stories which have been indexed by this website:

Captain America (vol. 1) #425 (Mar. 1994): "Fighting Chance, Part One: Super Patriot Games"
(visual reference)

Cleopatra's Tomb (1899)

Detective Comics (vol. 1) #328 (June 1964): "Gotham Gang Line-Up!"
(someone disguised or dressed as)

Suggested links for further research about this character and the character's religious affiliation:
- http://www.comicvine.com/cleopatra/29-19824/
- http://www.imdb.com/character/ch0026970/
- http://en.wikipedia.org/wiki/Cleopatra_VII_of_Egypt